Saudi Claims on Iran's Role in Yemen Face Skepticism in West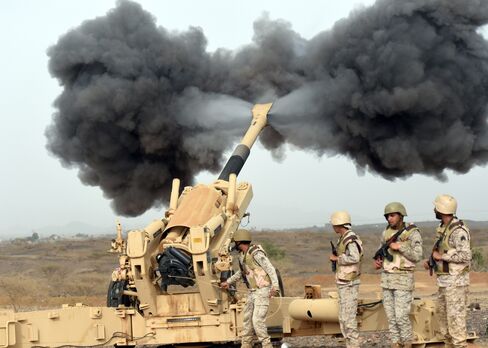 The Saudi-led military campaign to roll back Houthi fighters in Yemen has received public backing from the kingdom's traditional allies, including the U.S. and France.
At the same time, U.S., French, and other Western officials say they are skeptical about Saudi Arabia's main claim: that the Houthi rebellion is driven by Iran's ambitions to hold sway over large chunks of the Arab world.
And European leaders are signaling to Riyadh that patience with its three-week offensive -- joined by nine mostly Sunni Muslim nations with the stated aim of restoring to power a legitimate, ousted government -- is starting to wear thin. Yemen's disintegration can only be prevented by negotiations between its competing factions, they say.
"The prospect of a military solution to the Yemen problem isn't foreseen by anybody," German Foreign Minister Frank-Walter Steinmeier said Wednesday after meeting his counterparts from the Group of Seven nations in the German port city of Luebeck. He said all G7 ministers called for a return to dialogue.
There are already indications that al-Qaeda's branch in Yemen is gaining from the conflict. The group and allied fighters on Thursday seized control of an airport and oil export terminal around the town of Mukalla, which they captured this month, according to a local tribal leader.
The Houthis have been fighting against al-Qaeda for years, and say that Yemen's government, counted by the U.S. as an ally against the jihadists, has been tacitly aiding them.
No Allegiance
Secretary of State John Kerry and other top U.S. officials have accused Iran of providing military and financial support to the Houthis in an effort to expand its influence, American and European intelligence officers and diplomats following the issue closely say the Islamic Republic's support is limited.
The Houthis are not aligned with the Iranian brand of Shiite Islam, two U.S. officials who requested anonymity to be critical of higher-ranking colleagues, pointed out. The group has no allegiance to Iranian leaders in Tehran or top clerics in the holy city of Qom, two European officials said.
The Houthis are fighting largely with small arms and light weapons they've had for years or seized from U.S.-backed Yemeni forces, according to one American official. They are not reliant on Iranian arms, money, intelligence or direction to nearly the degree that Hezbollah in Lebanon, some Shiite militias in Iraq or the Syrian government are, the official said.
'Local Dynamics'
"Despite frankly a lot of propaganda about Iranian expansionism in Yemen this conflict is almost entirely driven by local dynamics and by local arms," Yezid Sayigh, senior associate at the Carnegie Middle East Center in Beirut, said during a panel discussion April 13 in Washington. "I don't think the Houthis need arms for the next 15 years given how many arms there are already in the country."
The Houthis, who say that they operate independently of Iran and are fighting oppression by Sunni-dominated Yemeni governments, advanced out of their northern strongholds last year and took control of most of the capital, Sana'a, in September.
The Saudi-backed president, Abdurabuh Mansur Hadi, fled to the south in February, and then to Riyadh, precipitating the military campaign. Saudi and Gulf Arab officials say they are seeking to restore his administration to office and to force the Houthis to resume talks.
Gulf View
High-ranking Obama administration spokesmen have been blaming Iran, as Kerry did in Cairo on April 9, in part to reassure the Saudis and other Gulf Arabs over existing alliances, one of the U.S. officials said. The intended message is that President Barack Obama isn't pursuing a strategy of detente with Iran as part of the negotiations to curb the Islamic Republic's nuclear program.
While stressing he understands Saudi concerns about a conflict in a neighboring state, French Foreign Minister Laurent Fabius has started to suggest it's time to end the operation. "The lesson of the past few years is that you can never have a purely military solution," he told reporters in Paris on Thursday. "Sometimes military force is necessary, but a conflict can only be resolved by the inhabitants themselves."
Viewed from the Gulf, though, the Houthi advance is being driven by Iran's regional ambitions.
'Trivial' Influence
An official from a Gulf nation, who also asked not to be identified, said there are an estimated 5,000 Iranians, Hezbollah and Iraqi militia on the ground in Yemen, helping the Houthis. Iran has expressed sympathy for the Houthis but denies sending any direct support.
So far, the bombing of Houthi targets hasn't pushed the rebel force into retreat, though an offensive to capture the southern city of Aden has slowed. The United Nations said April 6 that 540 people had been killed, 74 of them children, and 1,700 wounded in violence in Yemen since mid-March. The coalition continues to drop hints over a possible ground offensive.
The rebels, who follow the Zaidi branch of Shiite Islam, like about 40 percent of Yemen's people, are supported by former President Ali Abdullah Saleh. He was removed from office after popular protests but retains influence over parts of the armed forces.
Iranian influence in Yemen is "trivial," said Gabriele vom Bruck, a senior lecturer in anthropology and Yemen specialist at the School of Oriental and African Studies in London.
"The Houthis want Yemen to be independent, that's the key idea, they don't want to be controlled by Saudi or the Americans, and they certainly don't want to replace the Saudis with the Iranians," vom Bruck said. "I don't think the Iranians have influence in their decision-making. It's not a relationship like that between Iran and Hezbollah."
Before it's here, it's on the Bloomberg Terminal.
LEARN MORE