U.S. Treasury's Puzzle Solver Helps Shape Sanctions Against Iran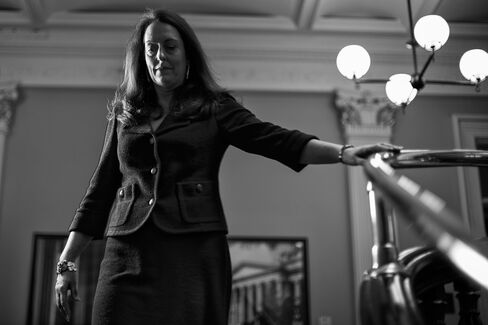 As a child, Leslie Ireland liked to sit at her family's card table and solve jigsaw puzzles. The trick was to finish the job without looking at the picture on the lid of the box.
These days, Ireland unravels a different kind of puzzle, with a big potential payoff: the web of financial transactions that bankroll Iran and other elusive U.S. adversaries. If the two-decade effort to pressure the Islamic Republic into curtailing its nuclear program finally results in an agreement, Ireland and her team of low-profile Treasury Department analysts can claim part of the credit.
Ireland, 55, heads Treasury's Office of Intelligence and Analysis, created in 2004. Her team has played a key behind-the-scenes role developing, enforcing and tracking the effectiveness of economic sanctions against Iran. And each time the U.S. penalizes an oligarch connected to Vladimir Putin, Ireland's office has likely put in weeks, sometimes years, following the money and building the case.
She and her staff also help track the financing networks of everyone from Islamic State terrorists to North Korean arms dealers and Mexican drug lords. In a world awakening to U.S. reliance on financial warfare, her team helps protect against one possible form of retaliation: cyberattacks against U.S. financial institutions.
Financial Mapmaker
"Part of the challenge, and what Leslie's office is particularly good at, is mapping out the financial networks," David Cohen, who worked closely with Ireland when he was undersecretary of terrorism and financial intelligence at the Treasury, said in an interview.
"They will take these little pieces of information and see how they relate to one another and sort of paint the picture of the network," said Cohen, who is now deputy director of the CIA.
Before joining Treasury, Ireland had a 25-year career at the Central Intelligence Agency that included a stint as President Barack Obama's daily intelligence briefer. The position required her to start preparing every day at 1:30 a.m. and to learn how to interpret the president's way of thinking.
"It's not just about being smart, or being a knowledgeable analyst. You've got to read the first consumer. You've got to understand, frankly, how he learns," said former CIA director General Michael Hayden, who chose Ireland to brief Obama after he was elected in 2008. "Leslie proved to be a very good person."
Too Smart
If you visit her office, Ireland will show you -- once you've left your cell phone and any other electronic devices outside, of course -- the framed photo on the wall depicting her briefing Obama on Air Force One. Beneath that memento hangs a letter of thanks she and another female CIA officer received in the late 1980s after briefing the Army's policy council. Ireland's part of the briefing focused on the proliferation of weapons of mass destruction.
Below the letter is a note, handwritten in pencil, that one of the Army officials left behind: "Women are getting too smart!"
Current and former colleagues say Ireland combines a sometimes offbeat sense of humor with her analytical skills and policy experience. An example of a Leslie Ireland icebreaker: Say "Iranian uranium" ten times fast.
Moon Landing
Raised in Lexington, Massachusetts, Ireland was enthralled at a young age by the secrecy surrounding America's Cold War with the Soviet Union. Her father helped develop the guidance system used by Neil Armstrong and Buzz Aldrin to land the Apollo lunar module on the moon in 1969.
"I still remember sitting around the television, watching the moonwalk, and remembering my father's very intent focus," she said in an April 1 interview at the department. "I found out later that he could never talk about what he was doing because of the Soviets. There was just a very constant awareness that the Soviets posed a threat to our security, to our way of life."
Ireland's interest in the Cold War led her to complete a master's degree in Russia studies at Georgetown University in Washington. The father of one of her roommates worked for the CIA. He recounted how contractors he'd been working with in Iran were killed after their car was blown up by terrorists. Despite the hair-raising story, Ireland came away impressed by the man's dedication.
"He sits back and he looks at me and says I think you'd enjoy working there," she said. "He just spoke with such a passion and conviction, that it really appealed to me."
Iran Negotiations
Ireland would later serve as Iran mission manager for the director of national intelligence. Early U.S. efforts to deter Iran's nuclear program gave her an appreciation for the effectiveness of financial weapons, in particular sanctions.
"I truly believe the sanctions were able to bring enough pressure to bear on the government in Iran to bring them to the negotiation table," she said.
About 6,000 individuals and entities are on the administration's sanctions list. The Treasury won't say how many people Ireland's OIA employs, but people familiar with the office say there are several dozen, making it a minnow compared with the legions of officers who work at the CIA. Yet it's playing a major role in the Obama administration's defense and foreign policy.
Sony Hack
The might of American banks, as well as the government's ability to coordinate sanctions with its allies, has given the U.S. an advantage on this new battlefield. But other countries are arming themselves accordingly. For example, Russia has promised to create its own version of the Society for Worldwide Interbank Financial Telecommunication, known as SWIFT, a system used by banks to communicate transactions.
Underscoring the vulnerability of U.S. companies that get caught in geopolitics, Sony Pictures Entertainment was hacked last year after North Korea objected to the way its government was portrayed in "The Interview." The administration blamed the attack on North Korea.
Former CIA chief Hayden warns that relying too much on sanctions and other financial tools could backfire. Companies and banks fearful of being sanctioned may look to finance themselves in currencies other than the U.S. dollar, he said.
"If you overuse this, and particularly if you abuse it, you can see the world giving up the convenience of the dollar as the reserve currency" said Hayden. "This is not the gift that will keep on giving."
Jefferson's Sanctions
Economic sanctions have been part of the U.S. arsenal for more than two centuries. During the Napoleonic Wars, frustrated with harassment of U.S. ships by the British and French, President Thomas Jefferson suspended all foreign trade out of U.S. ports. British and French traders easily circumvented the embargo, as Cohen noted in a December speech.
Treasury officials say years of honing their craft, and the data analysis provided by Ireland's office, have made them more effective at using financial pressure to influence state behavior.
They point to Iran as a case in point. When the Treasury was asked to come up with ways to step up pressure on Tehran, the conventional wisdom was that Iran was "sanctioned out," Adam Szubin, the acting undersecretary for terrorism and financial intelligence, told lawmakers last month. By working with allies and developing new ways to isolate Iranian banks and firms, the U.S. ratcheted up the economic pain. The U.S. estimates Iran lost more than $40 billion last year due to curbs on its oil exports.
"You can't do targeted sanctions without targeted information, and in many cases, the best way to obtain that information is through intelligence," Szubin said in a phone interview. "A lot of the successes we've had are directly attributed to the quality of the intelligence analysis that Leslie's office has produced."
Before it's here, it's on the Bloomberg Terminal.
LEARN MORE