Trafigura CEO to Make History at Swiss Commodities Summit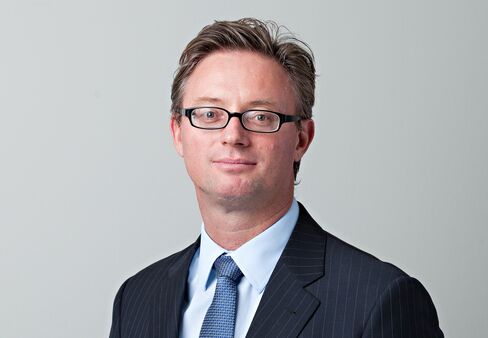 When Trafigura Beheer BV Chief Executive Officer Jeremy Weir takes the stage at a conference in the Swiss city of Lausanne next week, he'll do something no CEO of his company has ever done before.
He will speak in public.
Since his appointment more than a year ago, Weir, a 51-year-old Australian, hasn't given an interview or a public speech. His reticence follows in the footsteps of his predecessor, Trafigura co-founder and Executive Chairman Claude Dauphin, a Marc Rich protege who shunned public appearances, speeches and interviews during his 21 years as CEO of the world's second-largest metals trader.
That's about to change as Weir's speaking debut comes amid an ambitious effort by Trafigura to increase transparency, improve its public image and move beyond its controversial past.
"The entire commodities industry will be paying close attention," said Matthew Parish, managing partner of Geneva-based Gentium Law Group, whose clients include trading firms.
Trafigura, the world's third-biggest independent oil trader, has begun publishing detailed annual financial reports and enlisted academics to write research papers, including one arguing that commodity traders don't pose systemic risks to the global financial order.
The company owned by a group of more than 600 employees broke ranks with its peers in December by agreeing to join the Extractive Industries Transparency Initiative and disclose some of the payments it makes to governments as part of its business buying and selling oil.
'External Reputation'
Much of the shift, including some key management changes, has occurred since Weir took over in March 2014 as CEO of the Amsterdam-based company, which has major trading operations in Geneva and Singapore. Before joining Trafigura in 2001, Weir spent nine years at NM Rothschild & Sons Ltd., where he established its non-ferrous metals derivatives business.
"His efforts at internal streamlining of the business are well known," said Parish. "But he's been equally, if not even more active, in developing the company's external reputation."
The commodity trading industry, much of it centered in Switzerland where traders aren't directly regulated, has long been noted for its opacity and lack of disclosure. Closely held trading houses with major operations in Geneva, include Vitol Group, Gunvor Group Ltd., Mercuria Energy Group Ltd. and Trafigura. In the past, the traders have cited competitive reasons for their furtive ways.
Banks Exiting
Increased scrutiny by regulators including the U.S. Federal Reserve and politicians has prompted major banks including Barclays Plc, Deutsche Bank AG and JPMorgan Chase & Co. to cut back or abandon their commodity businesses. JPMorgan sold the bulk of its physical trading operations to Mercuria last year for $800 million and Morgan Stanley is selling its physical oil trading and storage business after a deal with Rosneft was abandoned as the state-controlled Russian producer was slapped with U.S. sanctions over Ukraine.
The rising pressure on banks' commodity operations has spilled onto independent traders including Trafigura, which has under outgoing Chief Financial Officer Pierre Lorinet sold bonds as the company reduces reliance on day-to-day trade finance.
BNP Paribas paid a record $8.97 billion penalty and pleaded guilty in July to violating U.S. sanctions against Iran, Sudan and Cuba in connection to activities that were partly related to commodity-trade finance and the bank's Geneva office. The French lender cut trade finance to Trafigura last year.
Raising Capital
Still, there have been no indications the company has had difficulty raising capital from banks or securing trade finance, which Andrew Gowers, Trafigura's global head of corporate affairs, said is the "lifeblood" of the commodity trading sector. Trafigura garnered $5.3 billion worth of credit facilities with 51 institutions, it said last month.
Lorinet will be replaced as CFO by one of his deputies, Christophe Salmon, when he retires at the end of September, completing a management overhaul at the company. Trafigura reported net income of $1.08 billion on revenue of $127.6 billion in its fiscal year through September 2014.
With its decision to work with the EITI and disclose some government oil payments, the trader is attempting to address the regulatory scrutiny head-on and gain a first-mover advantage as it expects such disclosure will be required as part of U.S., European Union and potential future Swiss legislation.
'Leading Edge'
"We took the view that if this was going to happen anyway we would like to be on the leading edge of that trend," Gowers said at the United Nations Conference on Trade and Development Global Commodities Forum April 13.
The decision to join the EITI hasn't been adopted by the Swiss Trading and Shipping Association, the Geneva-based industry group which represents firms including Trafigura and Vitol, the world's largest oil trader. Commodity trading accounts for about 3.5 percent of Swiss GDP, or 20 billion Swiss francs ($20.5 billion).
"Adapting rules designed for other sectors, such as the extractive industries, is not an appropriate solution and stops short of addressing issues in many countries in which our members are active," David Fransen, managing director of Vitol's Swiss operations and the president of the STSA, wrote in an editorial published by Swiss newspaper L'Agefi on April 13.
Explaining Decision
The trading industry has historically "done a pretty poor job" of explaining what it does and why it does it, Gowers said at the UNCTAD event. "We recognize we can't escape scrutiny and we aim to meet increased scrutiny with an increased level of disclosure."
Weir, who gave interviews to newspapers in his previous role as head of Trafigura's mining and hedge-fund units, should use his "historic" appearance at the FT Commodities Global Summit to explain the strategic and financial reasons behind the decision to increase disclosure, said Oliver Classen of the Berne Declaration, a non-governmental organization that's lobbying for regulation of commodity traders operating in Switzerland.
"He needs to argue his case, talking to his peers for the first time in public," Classen, who will attend the conference, said by phone. "The context is very clear. People want to understand why Trafigura has become the first mover in the field of regulation, accountability and transparency."
Making Investments
Trafigura scrapped a controversial products-swap deal with Nigeria's national oil company, a person familiar with the matter said in January. The long-standing deal to exchange gasoline and other petroleum products for crude oil had drawn criticism from the Berne Declaration and other NGOs because it took place outside the bank system and the oversight of regulators who supervise bank lending for commodity trading transactions.
Under Weir's leadership, Trafigura has made investments in mining companies and attempted to wield influence over some firms' boards. The trader has proposed two candidates to join the board of Nyrstar NV, the Belgian zinc producer in which it's the largest shareholder with a 15.3 percent stake. Nyrstar opposed one of the candidates put forward as an independent director, saying he is too close to Trafigura and its executive management.
Trafigura has rejected Nyrstar's opposition and said April 13 it has given "unequivocal assurances" that Martyn Konig, chief investment officer of Trafigura unit T Wealth Management, wouldn't be representing the commodity-trading house on the mining company's board.
Trafigura is seeking to expand its investment in physical metals and mining, securing long-term supplies of copper, zinc, lead and iron ore.
Nyrstar currently has long-term offtake deals with Trafigura competitors Noble Group Ltd. and Glencore Plc, the largest metals trader.
Before it's here, it's on the Bloomberg Terminal.
LEARN MORE