World's Lowest Cost Iron Ore Miner Turns Screw on Rivals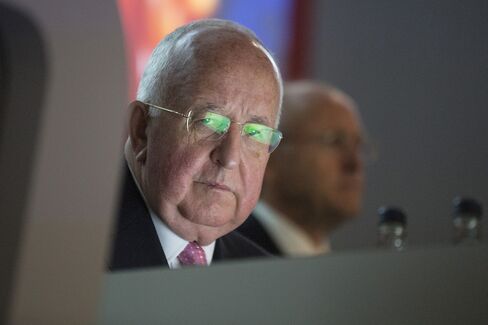 Rio Tinto Group Chief Executive Officer Sam Walsh is fast becoming the worst nightmare of rival iron-ore producers starved of cash.
Iron ore prices have slumped by more than half in a year on a deepening global supply glut. That's pushed some into bankruptcy and left others on life support. News that the lowest-cost producer is mining a ton of ore even more cheaply signals a more protracted price slump.
After achieving an industry-leading $19.50 a ton last year, currency movements and a drop in fuel costs mean Rio Tinto is now producing at $17, Walsh told investors in London on Thursday. The company is still seeking ways to ship it to Asian buyers more cheaply, he said.
"I know there's a lot of controversy," Walsh said. "I know that there's a lot of late entries into the market who have taken advantage of higher prices and they are now feeling the impact of that as prices have come down.
''This is rational, normal economics,'' he said. ''This is what physically happens across a range of commodities not just iron ore. It's a process that we and others have got to work through.''
The strategy, employed by the world's largest producers, of continuing to expand output in the face of a price rout has earned the ire of some analysts, investors and loss-making rivals. Rio's main competitor BHP Billiton Ltd. has described the tactic as ''squeezing the lemon."
Mining Towns
Some are furious.
The strategy of BHP and Rio is "ripping the heart out of communities" surrounding iron ore mining towns and the state of the industry is now a "disaster" for everyone involved, the chief executive officer of Australia's Fortescue Metals Group Ltd., Nev Power, told reporters Thursday.
It's also earned the ire of the premier of Western Australia, home to the world's largest iron ore export hub and mines owned by Rio, BHP Billiton and Fortescue. Colin Barnett has urged Rio Tinto to "rethink their strategy."
"They should reschedule some of their production and give a signal to the market that 'yes, we'll cater to iron ore demand and we'll cater for growth but we're not going to flood the market,'" he said in an interview last week.
"I think their companies, their employees, their shareholders and their bankers will want to hear them say something like that," he added.
Close Mines
Iron ore is the most traded commodity on physical markets after crude oil. The price slump has already piled pressure on smaller producers like Australia's Atlas Iron Ltd. as well as African Minerals Ltd. and London Mining Plc, all forced to close their mines.
"We have more to do to ensure that we maintain the margin between ourselves and the high-cost producers," Rio's Walsh said.
Outside of the three biggest producers -- Vale SA, Rio and BHP -- the industry faces an existential threat as demand is set to peak next year, according Goldman Sachs Group Inc., as it cut ore-price forecasts on Thursday.
The top three will press on with their expansions while as much as half of the rest of the industry may close, Goldman said. The bank joins JPMorgan Chase & Co., UBS Group AG and Citigroup Inc. in cutting estimates this month while Moody's Investors Service warned the market is drowning in supply.
The benchmark price for ore delivered to China advanced 2.3 percent to $50.93 a dry ton on Friday, according to Metal Bulletin Ltd. It fell to $47.08 on April 2, the lowest since 2005. It's 29 percent lower in 2015 after losing 47 percent last year.
Rio shares dropped 1.8 percent to 2,790 pence at 4:16 p.m. Friday in London.
"Being the lowest-cost producer is not about a competition or a bid to secure bragging rights," Walsh told investors in London. "Rather, it's fundamental to the health of our business."
Before it's here, it's on the Bloomberg Terminal.
LEARN MORE