Ranger Fans Are Pittsburgh-Bound for Cheap NHL Playoff Tickets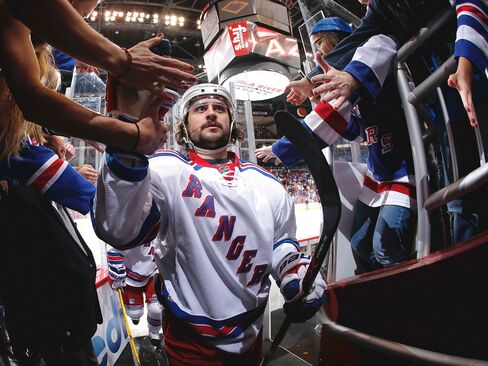 New York Rangers and Chicago Blackhawks fans are hitting the road, taking advantage of deep savings opportunities and manageable drives for their teams' away games as the National Hockey League playoffs begin.
The average price paid for a resale ticket to Games 1 and 2 in New York for the top-seeded Rangers' series against the No. 8 seed Pittsburgh Penguins was $373 as of Wednesday, according to secondary market ticket aggregator SeatGeek. That's $277 more than the $96 average for games in Pittsburgh, for which 22 percent of the purchases have come from New York and New Jersey. The best-of-seven series begins Thursday.
Illinois residents bought 25 percent of the resale tickets sold for Games 1 and 2 in Nashville as the Predators host the Chicago Blackhawks. The road fans were treated to a 4-3 double-overtime win in Wednesday's opening game. Tickets rise $146, to $241 from $95, when the series moves to Chicago.
"A few of these series with large price gaps involve teams that are within reasonable traveling distance of each other, so fan bases in those pricier cities are buying tickets in bunches for the cheaper games on the road," Connor Gregoire, an analyst for New York-based SeatGeek, said in an e-mail. "Typically, we see visiting fan bases buying 10 percent of tickets for road playoff games, give or take 5 percent."
Pittsburgh's Consol Energy Center is about a six-hour drive from New York's Madison Square Garden, while Nashville's Bridgestone Arena is about a 7 1/2 hour drive from Chicago's United Center.
$100 Disparity
There is a more than $100 disparity in resale ticket prices between arenas for five of the eight playoff series, which began Wednesday with four games. Ticket resale is prohibited in Winnipeg, ruling out the Jets' matchup with the Anaheim Ducks.
The Calgary Flames, a No. 3 seed in the Western Conference, beat the second-seeded Vancouver Canucks 2-1 in Game 1 on Wednesday. Having qualified for the postseason for the first time since 2009, the average price paid for tickets to Games 3 and 4 in Calgary are $321, compared with the $137 paid for Games 1 and 2 in Vancouver.
Before it's here, it's on the Bloomberg Terminal.
LEARN MORE