Poland's Richest Billionaire Poised to See Borrowing Rate Halved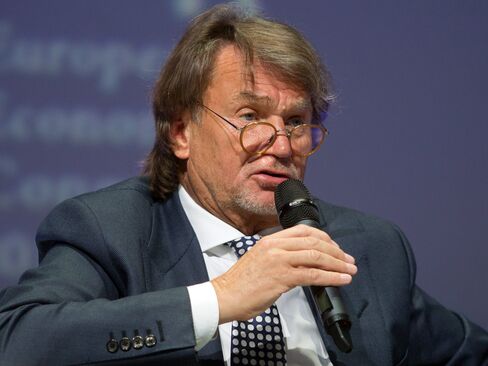 Poland's richest billionaire is about to see borrowing costs for the chemicals maker he controls cut in half, thanks to Mario Draghi.
Jan Kulczyk's company plans to refinance its 245 million euros ($265 million) of bonds paying 9.5 percent annual interest, Chief Executive Officer Dariusz Krawczyk said on April 10. Ciech SA should be able to halve the coupon to 4 or 5 percent, according to Peter Priisalm, who helps invest the equivalent of $350 million in bonds at AS Avaron Asset Management in Tallinn.
Polish corporate Eurobond yields plunged to the lowest levels in at least three years, spurred by the 1.1 trillion-euro bond-buying program initiated by European Central Bank President Draghi on March 9. Kulczyk has seen the value of his investment in Ciech surge as Europe's second-biggest soda ash producer boosted earnings and cut debt.
"There was a significant yield contraction on the market and the company itself has been doing very well, so refinancing is a logical step to take," Priisalm said by phone on Thursday.
The average yield on Polish corporate bonds stood at 4.56 percent this week from 4.95 percent at start of the year, according to JPMorgan Chase & Co. dollar indexes. The zloty has gained 6.6 percent against the euro in 2015, the most after Russia among 14 currencies in developing Europe.
Draghi reaffirmed on Wednesday his plan for quantitative easing through September 2016, sending yields in western Europe to record lows.
Narrowing Spreads
The ECB's stimulus program has helped narrow spreads on corporate issuances as investors hunt for higher yields, according to Piotr Zagala, who helps invest about $670 million as a money manager at Allianz TFI mutual fund in Warsaw. He predicted Ciech would pay about 4 percent to refinance its debt.
Ciech's November 2019 bond, redeemable this November, has a bid yield to next call of 3.45 percent, the lowest rate since March 18, according to data compiled by Bloomberg.
"I expect the company will decide to call its bonds and will replace them by new, much cheaper debt," Zagala said by e-mail on Thursday.
Kulczyk, worth $4 billion according to Forbes magazine, bought a 51 percent stake in the Warsaw-based company for 835.5 million zloty in June last year. While the stock has climbed 78 percent compared with takeover price, Standard & Poor's raised its rating on Ciech's debt in November by one step to B+, its fourth-highest non-investment grade, citing strong results.
The company's income more than tripled last year to 167 million zloty and cut its net debt to 2.3 times earnings before interest, taxes, depreciation and amortization, from a ratio of 2.7 a year earlier and 5 in 2010.
Ciech shouldn't wait to refinance, Michie Yana, an analyst at ECM Asset Management Ltd. in London, said on Thursday.
"I see little logic for Ciech to wait till November as it's already showing pretty robust numbers," Yana said by e-mail. "Investors seem to be fairly constructive on Poland."
Before it's here, it's on the Bloomberg Terminal.
LEARN MORE