Philip Morris Soars as Sales Volume Jump Fuels Profit Gains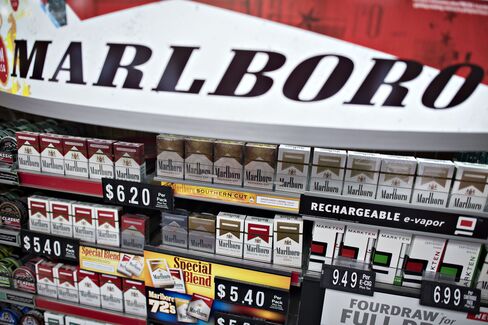 Philip Morris International Inc., the world's largest publicly traded tobacco company, rose the most in more than six years after first-quarter profit beat estimates and the maker of Marlboro cigarettes boosted its forecast.
Excluding some items, profit was $1.16 a share last quarter, Philip Morris said in a statement Thursday. Analysts had estimated $1.01 on average, according to data compiled by Bloomberg. Philip Morris also increased its annual forecast to as much as $4.42 a share, compared with a previous projection for up to $4.37.
"Our organic volume and market-share performance was better than we originally forecast, underpinned by the investments we made in 2014 and an improving operating environment this year," Chief Executive Officer André Calantzopoulos said in the statement.
Philip Morris, which gets all its revenue outside the U.S., has been increasing prices and fighting to add market share, helping it maintain profit in a slowing industry. Calantzopoulos also is introducing noncombustible products like heat sticks, seen as a potentially healthier alternative to smoking.
The stock jumped 8.7 percent to $84.96 in New York, the biggest gain since November 2008. Philip Morris's shares had declined 4.1 percent this year through Wednesday's close, compared with a 2.3 percent gain for the Standard & Poor's 500 Index.
Higher Sales
Excluding excise taxes, net revenue amounted to $6.6 billion last quarter, exceeding analysts' $6.2 billion average estimate.
As Philip Morris gains ground overseas, two other tobacco companies are trying to merge in the U.S. Antitrust officials are evaluating Reynolds American Inc.'s blockbuster agreement to buy U.S. rival Lorillard Inc. for about $25 billion. If the transaction is cleared, it will leave 80 percent of the 400-year-old American tobacco industry with two competitors: Reynolds and Altria Group Inc.
Altria, the U.S. tobacco leader, spun off Philip Morris International in 2008 so it could focus on the domestic market.
Before it's here, it's on the Bloomberg Terminal.
LEARN MORE