Draft Thai Constitution Aims to Put Brakes on Political Parties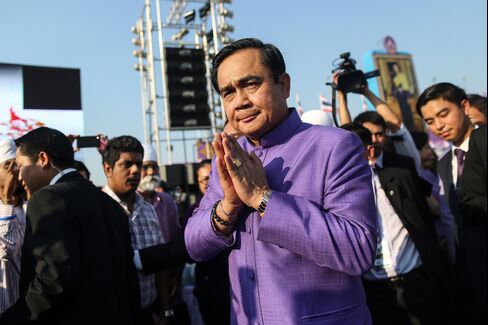 The backers of Thailand's draft charter say it will enshrine democracy in a country prone to military coups. Critics warn it will curb the power of elected politicians and risk deepening a long-running political divide.
The proposed constitution to be released Friday to the ruling junta's reform council would limit the chance of a single-party government by introducing a complex new voting system. It could prevent the kind of electoral dominance achieved by former Prime Minister Thaksin Shinawatra, whose allied parties have won every ballot since 2001.
With economic policies that made him wildly popular in poorer rural areas, Thaksin challenged the established elite in Bangkok until his ouster in 2006, and the ensuing tensions led to a cycle of coups, short-term governments and deadly protests. His opponents have vowed to wipe out the influence of Thaksin and his sister, the former premier Yingluck Shinawatra whose government was ousted last May by a junta that's still in power.
"In order to achieve such goals, the old elites must manipulate the electoral system through rewriting the constitution, which will reduce the power of majority voters," said Puangthong Pawakapan, associate professor at Chulalongkorn University in Bangkok. "This is a result of distrust of politicians from any parties."
"It will not mend the rift," Puangthong said of the draft charter. "The country is free of protest now simply because of the junta's use of an iron fist. It looks calm, but bitterness and resentment remain strong."
Economic Impact
Supporters of the draft constitution say adopting Thailand's 20th charter since 1932 could allow for elections next year and bring about the end of military rule led by Prayuth Chan-Ocha, who mounted the coup that removed Yingluck. Alongside the measures for political parties, the charter seeks to bolster anti-graft agencies and police the ethics of politicians.
While the streets of Bangkok are peaceful, the past turmoil has weighed on growth. Last year Thailand expanded 0.7 percent, the slowest pace in three years, as tourism and investment suffered. The World Bank forecasts growth will pick up to 3.5 percent this year, lagging the 4.7 percent pace forecast for Malaysia and 5.2 percent for Indonesia.
Challenging Elite
Thaksin, a billionaire telecommunications tycoon, rallied the rural poor to his banner with policies such as affordable health care and debt relief to farmers. The rise of Thaksin and his political machine upended the traditional power structure of civil servants, army officers and royalists in Bangkok. Thaksin was convicted of corruption by a military-appointed court after his ouster and lives in exile.
After last year's coup that removed Yingluck and her Pheu Thai party-led government, she was charged with criminal negligence over alleged graft in her signature program to buy rice from farmers at above market prices. Both she and Thaksin have claimed their innocence.
Prayuth in a speech today said he had no choice but to seize power to end fighting between the political camps.
"I have clear objectives to reform the country's politics and economy before returning the democratic power back," he said. "I have no agenda on the reforms and have good intention on all policies."
The new constitution would introduce proportional representation for the lower house, which could thwart Pheu Thai or any other party from winning outright control of parliament. In addition, voter support will determine the ranking of candidates on the lists in the proportional voting.
Unelected Premiers
Separately, voters in each of the 77 provinces will get to vote for one senator from their province. The candidates for those spots will be selected by an appointed committee. Voters will have no say in the selection of the rest of the senators, who will be "self-elected" from members of designated "professional groups."
The draft also allows for an unelected prime minister to be chosen from outside parliament. Permitting a non-elected premier "will open a door for off-system power to intervene," said Chaturon Chaisang, education minister in the Yingluck government ousted in May.
The plan has also raised hackles among Thaksin's opponents.
"It's going back 30 years when Thai people used to go and vote and have no idea after the vote who was going to emerge as the leader," former Prime Minister Abhisit Vejjajiva, head of the opposition Democrat party, said in an interview April 2. "It will all be about back-room dealing negotiations among parties."
Hands Tied
Abhisit said the drafters, who were appointed by the junta or its bodies, started with a "prejudice against politicians" and aimed to "tie their hands."
The drafters, who include academics, former judges and military personnel, have made no secret of their lack of faith in the country's political class.
"Politicians have been notoriously untrustworthy, non-transparent, and seem lacking in morality, ethics and honesty," and under the new system "politicians will find politics less lucrative than before and less able to recoup their vote-buying investments through corruption," according to an explanation of the charter process co-authored by Bowornsak Uwanno, chairman of the 36-member drafting committee.
The new document would mandate reforms on everything from healthcare and education to income inequality that future government would be obliged to implement.
Wishes Granted
"In short everything that every citizen ever felt the need to fight for has been granted and all everyone has to do is to own, embrace and protect this constitution as if their life depended on it," Bowornsak and his co-author wrote.
The new charter must now pass through a junta-appointed reform committee, the junta government and the junta itself to become law. The charter's drafters have said they would welcome a public vote on the plan, though Prayuth has said a referendum would delay a return to elections.
The 50,000 word draft has 315 articles and only about 15 are contentious, meaning the others are "good, very good or excellent," Navin Damrigan, a member of the drafting committee and the junta's reform council, said April 7 at the Foreign Correspondents Club of Thailand.
"You might not see it when you read the constitution, but it gives the people more power."
Before it's here, it's on the Bloomberg Terminal.
LEARN MORE