Menendez Donor Charged in Medicare Fraud Must Stay in Jail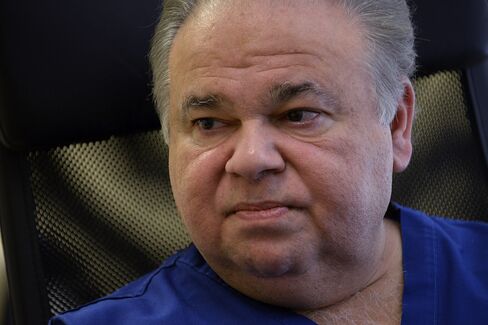 A Florida eye doctor charged with U.S. Senator Robert Menendez in a bribery case must remain in jail over separate Medicare fraud charges after a judge ruled he posed a risk of fleeing the U.S.
Salomon Melgen, accused this week of bilking Medicare out of a "substantial portion" of $105 million in reimbursements, pleaded not guilty and didn't request to be freed on bail at a hearing Thursday in federal court in West Palm Beach, Florida.
Melgen, 60, spent a second night locked up after his arrest on April 14. Melgen, who owns a luxury villa in the Dominican Republic, could flee the U.S. if released, a prosecutor told the judge.
"The defendant has had access to an enormous amount of cash from his practice, and has in fact converted some of that, changing American dollars into pesos," Assistant U.S. Attorney Carolyn Bell said in court. "He owns a boat and could easily flee to the Dominican Republic, or any other country."
U.S. Magistrate Judge James Hopkins said Melgen, a naturalized U.S. citizen, would stay behind bars. After the hearing, defense attorney Maria Dominguez said she was negotiating with prosecutors for Melgen's release on bail.
Melgen's appearance Thursday was a far cry from the image depicted in an April 1 indictment in New Jersey. He's accused there of lavishing almost $1 million in luxury travel and campaign donations on Menendez, a New Jersey Democrat who sought to help him in personal and business matters.
Private Jet
Prosecutors in New Jersey said Menendez, 61, flew on Melgen's private jet, stayed at his Dominican villa and used Melgen's credit-card reward points for a Paris hotel suite.
Menendez tried to help Melgen in his Medicare dispute, with a contract he sought to enforce in the Dominican Republic, and in visa applications for girlfriends from Brazil, Ukraine and his native country, prosecutors charge. Menendez pleaded not guilty on April 2 and denies wrongdoing.
In court, Melgen was shackled at the hands and feet and wore a blue jail jumpsuit. He didn't speak during the hearing, where Dominguez entered his not guilty plea. She said after court that U.S. marshals had agreed to move him from the Palm Beach County jail to the federal detention center in Miami.
Bell summarized the Florida indictment, which charges Melgen with bilking Medicare by falsely diagnosing elderly patients with diseases including age-related macular degeneration, and violating Medicare regulations by drawing multiple doses from single vials of medicine.
'Elderly Patients'
"He had these patients undergo invasive, unnecessary diagnostic procedures," Bell said.
She told the judge that the government had evidence from Melgen's medical files and images of the eyes of his patients.
"We have expert review of these images confirming, in fact, there were false diagnoses," she said. "We also have evidence of a pattern that the defendant was purposely, and knowingly misdiagnosing his patients."
After the hearing, Dominguez declined to say whether the new charges were designed to increase pressure on Melgen to cooperate in the Menendez case.
"There are two separate cases," she said. "I don't want to speculate on that."
The case is U.S. v. Melgen, 15-cr-80049, U.S. District Court, Southern District of Florida (West Palm Beach). The New Jersey case is U.S. v. Menendez, 15-cr-00155, U.S. District Court, District of New Jersey (Newark).
Before it's here, it's on the Bloomberg Terminal.
LEARN MORE