ECB Shopping List Pushes Average German Yield Below Zero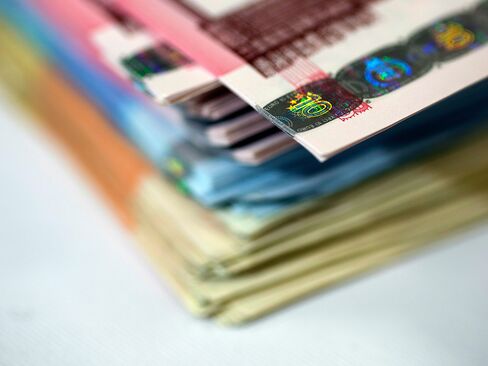 The average yield on German government debt dropped below zero for the first time, an indicator of how the European Central Bank's bond-buying program has made the previously unthinkable a reality.
Even before price gains on Thursday pushed the German nine-year yield below zero for the first time, the average yield to maturity on securities in the Bloomberg Germany Sovereign Bond Index was minus 0.003 percent. That means that, as of the close on Wednesday, investors were prepared to accept losses for holding to maturity $809 billion of the $1.16 trillion total of bonds in the index.
The yield on 10-year bunds, the euro region's benchmark, dropped below 0.10 percent Thursday for the first time, reflecting the demand for government debt in the wake of the ECB's 1.1 trillion ($1.2 trillion) quantitative-easing plan. ECB President Mario Draghi said Wednesday that the program must be implemented in full to work, adding more fuel to a rally that's already pushed yields across the region to record lows. Demand for bunds was also boosted as investors awaited a deal on Greece's finances to prevent it from defaulting.
"The ECB made it clear they will stick to their QE plan even though the economy has shown some signs of improving," said John Stopford, head of fixed income at Investec Asset Management in London. "German yields are not attractive at these levels but there's room for them to fall further given the ECB's policy. There are willing buyers and not many willing sellers because they can make capital gains if yields keep falling."
Yields Slide
German 10-year yields dropped two basis points, or 0.02 percentage point, to 0.08 percent as of 4:30 p.m. London time and touched 0.073 percent, the lowest since Bloomberg started tracking the data in 1989. The 0.5 percent bund due in February 2025 rose 0.235, or 2.35 euros per 1,000-euro face amount, to 104.075. The yield on German 30-year bunds fell below 0.5 percent for the first time.
Every German benchmark bond with a maturity of up to nine years now has negative yields. The average yield on securities in the Bloomberg U.S. Treasury Bond Index is about 1.30 percent.
The phenomenon is not just restricted to Europe's biggest economy, with about $2 trillion of the region's government bonds currently have have yields below zero.
France sold 7.99 billion euros of securities due in 2018, 2019 and 2020 on Thursday, all with negative yields. Spain, which saw its borrowing costs surge in the debt crisis that swept the currency bloc earlier this decade, auctioned six-month bills with a negative yield last week.
Bond Shortage
Bonds have continued to rally, even after yields dropped through zero, because the ECB has said its plan will include buying such securities, with purchases only ruled out when yields drop below its deposit rate of minus 0.2 percent.
Even that rule could risk creating a shortage of bonds, with Moody's Investors Service estimating Tuesday that 28 percent of German bonds within the two- to 30-year range have yields below minus 0.2 percent. This share was 5 percent when the ECB announced buying in January.
Draghi said Wednesday that the plan is so far proceeding smoothly and concern that the buying is creating a scarcity of securities is "premature." He was speaking in Frankfurt after an ECB policy meeting where officials maintained interest rates at record lows.
Before it's here, it's on the Bloomberg Terminal.
LEARN MORE