Five Things Everyone Will Be Talking About Today
There's a lot going on today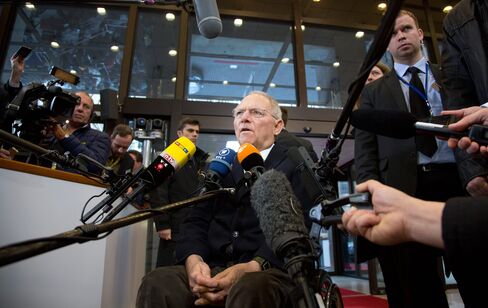 Things get uglier in the Greek bond market, Australia's big employment report, and Bernanke's new job. Here are some of the things that people will be talking about today.
Greek bond yields surge
Time is running out for Greece. The yield on the Greek 3-year note surged above 27 percent this morning for the first time since 2012. The nation desperately needs more money, but Greek creditors are digging their heels in.
German bond yields hit fresh record lows
The yield on the German 10-year dropped below 0.1 percent this morning for the first time ever and the 30-year bond yield moved south of 0.5 percent. QE-fuelled gains have now driven the average yield on German government debt to below zero.
Goldman Sachs stock tops $200 ahead of results
First-quarter results will be in focus this morning after the stock closed above $200 yesterday for the first time in over seven years. The last time the stock price closed above the milestone was back on Feb. 4 2008, just a month before Bear Stearns collapsed.
Monster Australian jobs report
Australia's employment report crushed estimates and the Aussie surged as traders pared bets the central bank will cut interest rates. The number of people employed jumped by 37,700 in March, more than double the number expected.
Bernanke's new job
The former chairman of the Federal Reserve can now call himself a part-time blogger and a part-time hedge fund adviser. According to the New York Times, Ben Bernanke has agreed to become a senior adviser to Citadel.
Before it's here, it's on the Bloomberg Terminal.
LEARN MORE