Fed Presidents Wary of Tightening Too Soon as Economy Cools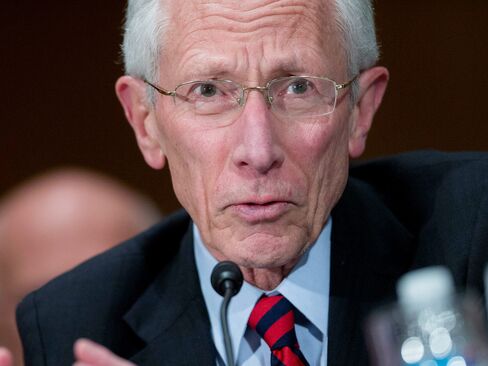 Two Federal Reserve officials said that a recent run of weak economic data makes them wary of raising interest rates too soon, reinforcing forecasts that the Fed will wait until September to tighten.
Atlanta Fed President Dennis Lockhart said Thursday that a move in June is "not my preference" although "I don't take June off the table."
Boston Fed President Eric Rosengren, in a speech in London, said that "incoming data would need to improve to fully satisfy the committee's two conditions for starting to raise rates." Lockhart votes on the policy-setting Federal Open Market Committee this year, while Rosengren doesn't.
Officials are reviewing recent signs the economy hit a soft patch in the first quarter to see if it lasts, which would undermine their forecasts for stronger hiring and higher inflation that warrant raising rates later this year.
Cleveland Fed President Loretta Mester said that while she expects this weakness to be transitory, she's looking for the evidence.
"I want to see whether the data is going to be consistent with my forecast," she said on Friday in an interview with Bloomberg Radio's Kathleen Hays and Vonnie Quinn. "We're going to get a lot of data between now and June."
Most officials expect to raise the benchmark interest rate some time this year, forecasts released last month show. In recent weeks, officials have struck a cautious note, with New York Fed President William C. Dudley saying on April 8 that he sees "strong arguments for being a little on the late side."
Economy Slowed
A smaller-than-forecast increase in housing starts in March reported on Thursday was the latest indication that the economy slowed in the first quarter. Other figures this week showed manufacturing barely rose last month, while retail sales climbed less than economists predicted.
Another official, Vice Chairman Stanley Fischer, played down disappointing data on job gains last month and said he expects the economy to rebound after a soft first quarter, without indicating his preference for the timing of the first rate increase in almost a decade.
"There's one weak employment report and five or six spectacular ones before it," he told a panel on Thursday at an International Monetary Fund event in Washington. "We're expecting a pick-up in growth following the first quarter."
The FOMC was split at its meeting last month on when to begin lifting rates from near zero. Several participants wanted to start tightening in June, while others favored later in the year, according to minutes of the March 17-18 meeting.
Payrolls Disappoint
That was before the release of that month's jobs data showing employers added a fewer-than-expected 126,000 jobs in March, the smallest gain since December 2013. Economists surveyed by Bloomberg estimate annualized economic growth slowed to 1.4 percent in the first quarter from 2.2 percent in the previous three months.
A majority of economists in an April 3-9 Bloomberg survey forecast the first rate rise at the Fed's September meeting. In two surveys conducted in March, a plurality of economists said the first increase would come at the Fed's June meeting.
"I would prefer a later liftoff date," Lockhart told reporters after delivering a speech in Palm Beach, Florida. "I would like to see more confirming evidence" that the economy will rebound. "The stronger the evidence, the more orderly the subsequent path of policy would be," he said.
Before it's here, it's on the Bloomberg Terminal.
LEARN MORE