Eurostar Sales Slip as Charlie Hebdo Impact Outweighs Euro Boost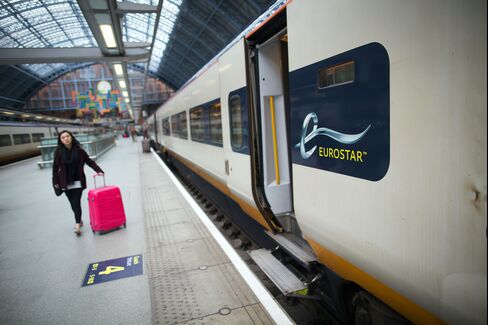 Eurostar International Ltd. sales fell in the first quarter as terrorist attacks in Paris and a fire in the Channel Tunnel rail link clipped passenger numbers, outweighing the benefits of a weaker euro in encouraging Britons to travel.
Revenue slid 6 percent to 215 million pounds ($321 million), or 1 percent at constant currencies. Leisure travel has since rebounded, with strong Easter and summer bookings, while business demand has been gaining throughout, Chief Executive Officer Nicolas Petrovic said in an interview.
Trains using the Channel Tunnel suffered three days of cancellations and delays from Jan. 17 after a fire on a Groupe Eurotunnel SA shuttle. The disruption came less than two weeks after a massacre at the Paris offices of Charlie Hebdo magazine and two other attacks killed 17 people in the deadliest terrorist incidents in France for half a century.
"For that period in January, some people making bookings for Valentines or a birthday party, for example, thought 'OK, I'll maybe spend it in Madrid rather than Paris,'" Petrovic said by telephone. "But it's really picking up now and forward bookings are higher than last year."
The first-quarter passenger total, reflecting the number of people who traveled in the period, unlike sales, which are based on bookings, was static at 2.3 million. Business travel increased 7 percent from a year earlier, with buoyant demand from the U.K. beginning to spread south, Eurostar said.
Marseille Service
The weakening of the euro versus the pound is generally positive for Eurostar, since more customers originate in London than in the continental cities in serves, Petrovic said.
Eurostar is gearing up for the start of a service to Marseille on May 1 which Petrovic said will be transformational in extending the company's focus beyond London-Paris and London-Brussels into long-distance operations. A route to Amsterdam via Antwerp and Rotterdam is due to follow in 2016.
Bookings on the Marseille trains, which will link London with the Mediterranean via Lyon in 6 1/2 hours, are running well ahead of target, Petrovic said today.
Eurostar ran a trial service with staff acting as passengers last month and will offer a range of onboard enhancements to reflect the extended journey time on a route that's expected to be weighted toward leisure travelers.
South-bound trains will have Provencal menus from Michelin-starred chef Raymond Blanc and tourist-board and car-rental agents will ride the service to complete bookings mid-journey.
Before it's here, it's on the Bloomberg Terminal.
LEARN MORE