Etsy Surges in Debut, Leading Gains Among New U.S. Listings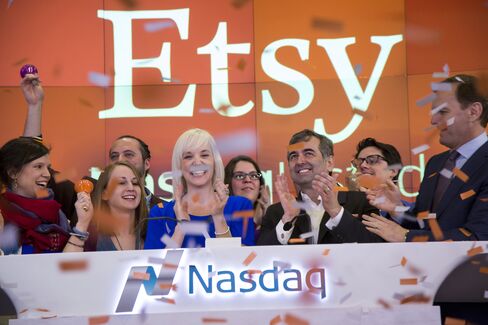 The U.S. IPO market got a shot in the arm Thursday after a high-frequency trader, a handicrafts marketplace, and a party-supply retailer all jumped in their trading debuts.
Etsy Inc., the website for artisans, logged the biggest gain, surging 88 percent in its first trade after it raised $307 million in its initial public offering. Virtu Financial Inc. gained 17 percent and retailer Party City Holdco Inc. jumped 22 percent.
Together with small biotechnology company KemPharm Inc., which rose about 2 percent, the companies raised over $1 billion, the most since early February. Etsy, Virtu and Party City all exercised their greenshoes, which enabled the underwriters to sell more stock and increase their respective deal sizes by 15 percent.
The handful of deals won't alone be enough to reverse a sharp slowdown in U.S. IPO activity -- the first-quarter was the slowest for new listings since 2009 -- but their success could encourage others to follow suit.
"There seems to be a bit of an enhanced appetite for risky assets," said Max Wolff, the chief economist at Manhattan Venture Partners, an investment firm focused on late-stage companies. "I think it's given the IPO window a second wind."
For Party City, the largest U.S. party-supplies retailer, and Virtu, which uses computerized strategies to buy and sell everything from stocks to currencies, the successful debuts came after earlier plans were delayed.
Virtu last year shelved its IPO plan after Michael Lewis's "Flash Boys" directed unprecedented scrutiny onto high-frequency traders. The book alleged they, together with Wall Street brokerages and exchanges, were making money at the expense of slower-moving asset managers.
HFT Benefits
Virtu's defenders argue that high-frequency trading reduces costs and provide liquidity that benefits other investors. The criticism wasn't an issue among new investors, Chief Executive Officer Doug Cifu said in a telephone interview Wednesday.
"We spent very little time discussing regulatory issues or controversies," he said.
Party City has been trying to go public since 2011. The Elmsford, New York-based company delayed its deal amid a stock-market slump and later sold a stake to Thomas H. Lee Partners LP. It then refiled for an IPO in January 2014.
Etsy's route to an IPO was a little more straightforward: the company only filed for its IPO in March. As a public company, though, Etsy faces two unique challenges. It will have to keep the artisans and craftmakers who sell their products on the site happy, as it seeks to build scale for investors.
It also has to continue to meet the strict social and environmental commitments that it's made as a B Corporation. For example, about $300,000 of the IPO proceeds will fund Etsy.org, a non-profit for educating women and minorities on how to create their own businesses.
Before it's here, it's on the Bloomberg Terminal.
LEARN MORE