Chinese Binge on Hong Kong Stocks Rescues Flagging Dim Sum Bonds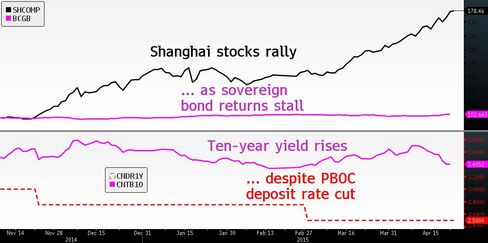 The flood of Chinese money pouring into Hong Kong stocks has had a spillover effect: rescuing the city's flagging yuan bond market.
Southbound flows through the Shanghai-Hong Kong equities link exceeded those headed to the mainland by more than 30 billion yuan ($4.8 billion) this month, swelling the offshore supply of China's currency. As banks in the former British colony take in more yuan, they're reducing deposit rates, making Dim Sum debt yields more attractive to investors. This helped drive a 0.6 percent rally in the notes in April.
Hong Kong's Hang Seng Index has jumped 11.6 percent this month after China made it easier for mainland funds to use the cross-border link to buy stocks, energizing a city struggling to adjust to a slowdown in the world's second-largest economy. The flow of funds has pulled Dim Sum yields down from record highs, raising the potential for recovery in issuance that has slumped 63 percent this year.
"Rates in China are on a downward trend, so investing in Dim Sum now to lock in borrowing costs is pretty good for portfolios," said Ngan Kim Man, head of the research and yuan business development department at Hang Seng Bank Ltd. "Those with yuan liquidity will be more willing to buy assets including Dim Sum bonds as depreciation concerns ease."
The offshore yuan has risen 0.4 percent in 2015, rebounding from its first-ever annual loss last year. The currency climbed
0.04 percent to 6.1911 a dollar in Hong Kong Friday. In Shanghai, the spot rate has advanced 1.2 percent since the end of February to 6.1937.
Stock Turnover
Hong Kong stocks' average daily turnover was HK$214 billion ($28 billion) in April, almost triple the past year's monthly average of HK$76.7 billion, helping attract $4.4 billion of inflows to the city's banking system. The one-year interbank yuan deposit rate dropped 55 basis points in April to 4 percent on Friday, while the one-month interbank lending rate fell 227 basis points from a record 6.35 percent on Feb. 6.
"I expect to see stronger liquidity on the anticipation of sustainable fund flows from southbound trade" from Shanghai to Hong Kong, said Woody Chan, head of financial markets in the city at Standard Chartered Plc, the No. 2 Dim Sum underwriter. Another stock link with Shenzhen to start later in 2015 could improve liquidity, he said, adding that he expects Hong Kong's yuan deposits to rise to 1.05 trillion yuan by year-end.
Deposit Rates
BOC Hong Kong Holdings Ltd., a unit of China's third-largest bank, last week lowered the interest it pays on savings in the Chinese currency to 4 percent from 4.2 percent on 12-month fixed deposits of a minimum 100,000 yuan, while Wing Lung Bank Ltd. plans to cut rates by an average 15 basis points across all tenors this week.
"What's the point of paying high interest rates to attract yuan deposits given that liquidity has improved?" said Kung Chi-ming, head of deposits department at Wing Lung Bank in Hong Kong. "It's a big time for stocks. No matter how high the interest rates are on deposits, they probably can't compete with the returns on stocks these days."
Yuan Support
China can't rely on a declining yuan to boost exports and doesn't want further devaluation, Chinese Premier Li Keqiang said in an interview with the Financial Times. Gross domestic product expanded 7 percent in the three months through March, the slowest since the 2009 global financial crisis, according to data released Wednesday.
The nation's push for reserve-currency status at the International Monetary Fund calmed concern depreciation will be used to revive the economy, prompting analysts to raise forecasts for the first time in seven months. The yuan will end 2015 at 6.21 a dollar, according to the median projection of analysts surveyed by Bloomberg. The consensus estimate weakened to 6.23 on March 31 from 6.00 at the end of September.
The People's Bank of China will cut its one-year lending rate by 200 basis points and lenders' reserve-requirement ratios by at least 400 basis points in the next 12 months, according to Ken Hu, Hong Kong-based chief investment officer for Asia-Pacific fixed-income at Invesco, which oversaw $798.3 billion of assets globally by the end of March.
"Depreciation expectations have largely scaled back after strong government signs that the yuan wouldn't be too weak," said Neville Ko, assistant general manager for global markets at BOC Hong Kong Holdings Ltd. "The funds coming into Hong Kong aren't just from China, but from around the world."
Before it's here, it's on the Bloomberg Terminal.
LEARN MORE