Blatter Likened to Mandela as He Gains FIFA Election Support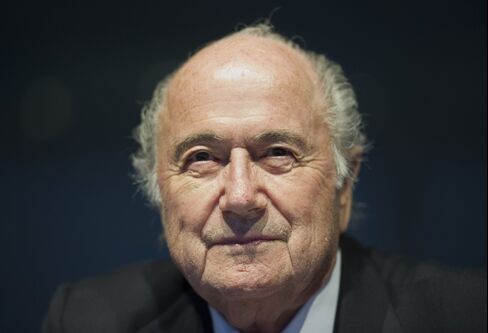 FIFA President Sepp Blatter added support from the North American area soccer governing group in his attempt for a fifth term with the sport's global body, getting praise that compared him to Nelson Mandela.
Executives from the Confederation of North, Central American and Caribbean Association Football, known as Concacaf, expressed support Thursday for the 79-year-old, who is running against Jordan's Prince Ali bin al Hussein, former Real Madrid player Luis Figo and Dutch soccer head Michael van Praag in the May 29 vote. The leadership of the African confederation pledged its support earlier this month.
"Concacaf membership is sending a clear message that we will continue to support President Blatter," said the U.S.- based regional body's head, Jeffrey Webb, after officials representing more than a dozen countries used often florid language to push for another Blatter term. Blatter's rivals were denied the opportunity to address the audience.
During Blatter's presidency, FIFA has been battered by a series of scandals, including inquiries into several senior executives amid graft allegations. The choice of awarding the 2018 and 2022 World Cups to Russia and Qatar continues to attract negative headlines five years after that decision was made. Two FIFA members were suspended from the vote after telling undercover reporters their votes could be bought.
Development Income
Blatter, accompanied by staff from FIFA's headquarters in Zurich, arrived in the Bahamas by private jet three days ago and addressed officials at their annual meeting Thursday. He promised to push for an extra World Cup place for the region and told officials of the 41-nation group they would share $150 million to $180 million in development income over the next four years.
The Swiss native had pledged his current term would be his last, but changed his mind and is attempting to serve another four-year stint.
Eugenio Figueredo, a member of FIFA's executive committee from Uruguay, and outgoing head of South American soccer's Conmebol group, said "all" its 10 members would vote for Blatter. FIFA's president attended Conmebol's annual meeting in Paraguay last month, and Figueredo's comments are the first confirmation of the group's plans.
Blatter often smiled and even gave thumbs-up signs Thursday as Concacaf officials spoke out in his favor as al Hussein, Figo and van Praag looked on.
Bloc Vote
As the tone of the support rose, Webb briefly paused the proceedings to remind reporters that Concacaf itself doesn't have a vote. Still, Olive Smith, vice president of the Turks and Caicos federation, urged members to vote as a bloc.
Ali and Figo, who described the meeting as "non-democratic," spoke out after.
"I think part of the problem is confederations are told the president is speaking as the president of FIFA, therefore don't give the floor to anything that has anything to do with the campaign when what he talks about is in reality campaigning itself," Ali told Bloomberg.
Blatter has gotten support from the region in previous campaigns. Each of FIFA's 209 members gets an equal vote, giving places like Turks and Caicos, a British territory in the Caribbean with a population of about 30,000, as big a say in the election's outcome as World Cup winner Germany.
Lincoln, Churchill
Officials should "vote in bloc to allow us to continue on this mutually beneficial journey," Smith said.
Osiris Guzman, president of the Dominican Republic's soccer body, likened Blatter to great men of history, starting from Moses and Jesus to Abraham Lincoln, Winston Churchill, Martin Luther King Jr. and Nelson Mandela.
In 2011, Guzman was among Caribbean officials suspended in a bribery inquiry. Envelopes stuffed with $40,000 were passed to soccer leaders during a visit by Mohamed bin Hammam, the ex-head of the sport in Asia as he challenged Blatter during the last election.
Blatter next travels to the annual meeting of soccer in Asia. The federation there has already said it supports him. Voting in the FIFA election is done anonymously.
Before it's here, it's on the Bloomberg Terminal.
LEARN MORE