Bank of China's Cao Says Yuan 'Maybe' in IMF Basket by Next Year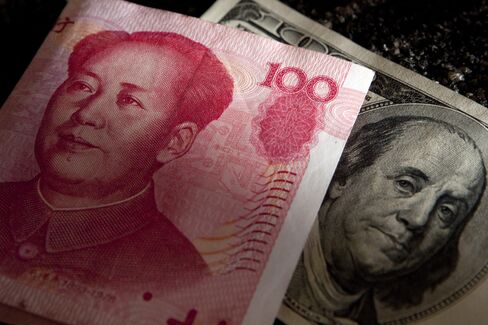 The yuan may win reserve status by being included by next year in the International Monetary Fund's basket of currencies, said Bank of China Chief Economist Cao Yuanzheng.
"The process depends on the negotiations, we hope this is as soon as possible," Cao said in a Bloomberg Television interview in Rome on Thursday. "Maybe," he said earlier to reporters, when asked whether there will be a decision by year's end to add the yuan to the ranks of the world's reserve currencies.
The inclusion in the IMF basket is key to President Xi Jinping's ambition to challenge the hegemony of the dollar and a global economic order dominated by the U.S. and Europe. China will try to ensure a stable exchange rate before the Washington-based lender starts reviewing in May its group of currencies for the so-called Special Drawing Rights, according to Barclays Plc and DBS Group Holdings.
The yuan fell last month to its weakest level against the dollar since October 2012. The currency halted its four-month decline in March as Premier Li Keqiang and Central Bank Governor Zhou Xiaochuan expressed publicly their hopes for the yuan's inclusion in the IMF program.
The currency needs to be freely convertible to be considered as part of the basket, Bundesbank board member Andreas Dombret said on Monday, ahead of the IMF meetings this week in Washington.
Silk Road
Cao signaled that the yuan may have a key role in China's new institutions, the New Silk Road Fund and Asian International Investment bank.
"AIIB is the long-term capital and Silk Fund is the equity capital" for infrastructures in Asia, he said. "In order to solve the currency mis-match, they have to use the local currency and the renminbi is of course highly competitive in this area."
Cao also said that while the U.S. is still invited to join the AIIB, it won't be able to do so as one of the founding members after failing to apply for that status before a deadline last month.
"We invited them to be a member, they came to China to discuss this issue and we are still waiting for their answer," he said. Now that the deadline has passed "they can come, but they are normal member," Cao said.
Before it's here, it's on the Bloomberg Terminal.
LEARN MORE