Nokia Takeover Fulfills Alcatel Chairman's Vision of Telecom Airbus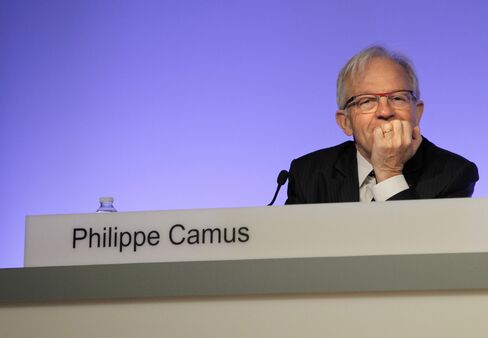 As chairman of telecommunications-equipment maker Alcatel-Lucent SA, Philippe Camus has long suggested that his company and its rivals would benefit from consolidation similar to that which swept European airplane manufacturing a generation ago. He'll soon find out whether he was right.
Camus, who 15 years ago oversaw the combination of French, German, and Spanish companies that today is known as Airbus Group NV, will be instrumental in the creation of a similar colossus in telecommunications. On Wednesday, Nokia Oyj announced it will pay $16.6 billion in stock for Alcatel, creating a new global market leader in wireless networks with the strength to take on aggressive Chinese competitors.
For Camus, 66, the deal was the culmination of months of delicate shuttle diplomacy. Reaching an agreement meant reconciling the needs of two companies with proud histories of innovation and independence while winning the support of the French government, which was wary of losing a major high-technology player.
"As Philippe Camus often says -- all European champions can't be French," Alcatel Chief Executive Officer Michel Combes said Wednesday at a press conference in Paris. "Nokia seemed to be the best opportunity" for Alcatel.
Codename: Nebraska
Led by Combes and his Nokia counterpart Rajeev Suri, the companies had been talking on and off for more than a year when discussions began in earnest last September. Both teams believed the time was right to begin discussing deals, according to executives involved.
This story is based on the CEOs' public statements and interviews with more than a half-dozen individuals who participated in the talks and asked not to be identified discussing private deliberations. Representatives for Nokia, Alcatel and the French government declined to comment on the details of how the deal came together.
The rise of China's Huawei Technologies Co. has roiled the industry for several years, highlighting the need for consolidation. But until about a year ago, restructuring at both companies had kept managers busy, and neither side wanted to negotiate from a position of weakness.
With Combes's restructuring program, dubbed the "shift plan," starting to stabilize the company's finances and Nokia completing its switch from phones to networks, serious discussions could begin. They initially focused on a sale of Alcatel's wireless business to Nokia, but both sides soon began to see the merits of a full merger.
Bankruptcy Fears
Selling the wireless unit would have left Alcatel a niche player devoted to landline networks. The vast investments and research needed to compete with Huawei and Sweden's Ericsson AB in sophisticated fifth-generation mobile networks underlined the importance of greater scale. And the French government fretted that dismantling Alcatel piece by piece would undermine a prized, if troubled, corporate jewel; Better to conclude a deal making the company part of a larger entity, even if not based in France.
"We got through the shift plan and pulled the company out of the phase when we feared bankruptcy, but it's been clear to me for many months that Alcatel-Lucent still had intrinsic weaknesses," Combes said.
While some of their meetings took place in Paris and Espoo, Finland -- the Helsinki suburb where Nokia is based -- most were on neutral ground, in London. Code names added further geographic diversity: The deal was dubbed "Maine," while Alcatel was referred to as "Alabama" and Nokia as "Nebraska."
Late Night Visits
Executives from both companies paid periodic visits to French economy minister Emmanuel Macron and his aides, trying to preserve secrecy by turning up at his offices by the Seine late at night and on weekends.
Sticking points quickly emerged: where to locate the headquarters of the combined company (in Finland), who should sit on the board (Alcatel gets three of the nine or 10 seats), and who'll be the boss.
"This is not a JV," Suri, who will run the new company, said on a conference call Wednesday. "This is very clear and allows us to have no politics and a no-nonsense approach to running the business."
From the start, Camus mediated disagreements between Combes and Suri and advocated the deal to the French government, which was informed about the talks early on. Camus understands volatile situations; when he joined Alcatel in 2008 the company was reeling from what insiders called the "passport wars," conflicts between French and American staff that followed Alcatel's merger with Lucent in 2006.
Elysee Steps
Camus and Combes, who will depart after the merger, spent much of the past two years negotiating job cuts with the French government. Eager for independent advice on the proposal, the state hired management consultancy Roland Berger to advise it on strategic options for Alcatel.
With the government increasingly convinced that a merger could work even if it were structured as a Nokia takeover, the two sides in late March sat down at the offices of law firm Sullivan & Cromwell LLP in London to conclude an agreement in principle. The state was deeply involved in the final negotiations, Combes said, and both CEOs paid a final visit to Macron before closing the deal this week.
With an announcement planned for mid-April, the talks were reported by the press on April 13. The companies confirmed the discussions the next morning, drawing a rush of TV cameras as Suri and Combes ascended the steps of the Elysee Palace to secure the blessing of French president Francois Hollande.
The two CEOs promised to forge a pan-European technology leader while keeping research jobs in France. And they pledged to maintain the company's French identity by seeking a listing on the Paris bourse and keeping employment in France at about the level planned by Alcatel.
"Let's be clear: Nokia bought Alcatel," Hollande told reporters in Bern Wednesday. "But it does so under the conditions I've given them."
Before it's here, it's on the Bloomberg Terminal.
LEARN MORE