'Groundhog Day' Sets Tone for Assault on Europe's Futures Giants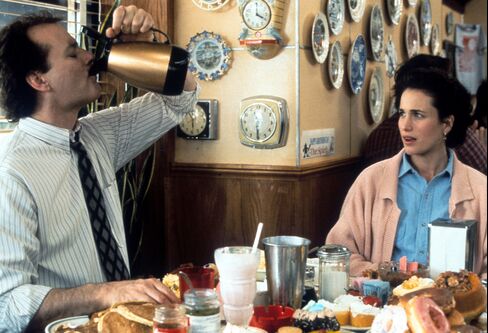 Working to set up a futures exchange to compete with established rivals can sometimes resemble the plot of "Groundhog Day," the movie in which Bill Murray's character keeps repeating the same day until he gets it right.
With a nod to the film, a group of Wall Street executives convened in 2013 to plan a new European market they've dubbed "Project Rita" after the character played by Andie MacDowell who is pursued by Murray in the movie. In conjunction with London Stock Exchange Group Plc, the consortium aims to steal market share from established venues owned by Intercontinental Exchange Inc. and Deutsche Boerse AG.
Eighteen months and a few tactical shifts later, the new exchange plans to list interest-rate futures as early as the end of the year, according to two people working on the plan who asked not to be named because they aren't authorized to speak publicly.
They have their work cut out for them, as prior efforts to compete with incumbent futures exchanges have failed more often than not. Eurex U.S. shut after two years of trying to break into U.S. rate futures in 2006. ELX Futures LP in 2009 was unable to put a dent in CME Group Inc.'s business. In 2006, the New York Mercantile Exchange's London expansion couldn't grab more than 1 percent of Brent crude oil trading from its rival Intercontinental Exchange, known as ICE. Brokers including UBS Group AG held talks in 2008 on starting a derivatives exchange named Project Rainbow that never gained traction.
Low Probability
"You're competing for a monopoly -- these are winner-take-all games," said Craig Pirrong, a finance professor at the University of Houston. "You periodically see these attempts, but the probability of success is very low."
Project Rita, which will be based in London, is backed by Goldman Sachs Group Inc., JPMorgan Chase & Co., Bank of America Corp., Barclays Plc and Credit Suisse Group AG, while Citigroup Inc. is still considering the proposal, according to the people familiar with the matter. Ashwin Gupta of Goldman Sachs and JPMorgan's Luis Valdich are among those leading the effort, according to the people. Spokespeople for the dealers and London Stock Exchange Group declined to comment.
The upstart market plans to offer futures trading based on U.S., U.K. and European government debt and short-term interest rate contracts for Eurodollars and Euribor, the people said. It will use LSE's Sola trading platform, which regulators have already approved for derivatives trading.
Cheaper Trading
One of their goals is to make it cheaper to trade, the people said. The Basel III rules put in place after the 2008 global financial crisis require banks to carry more capital to absorb potential losses on their assets. The banks hope that by reducing the amount of derivatives that show up on their balance sheets through a process known as portfolio margining, they will reduce the amount of capital they must hold. They can do this by offsetting futures trades against swap trades that are held in the same clearinghouse.
That's where LCH.Clearnet Ltd., the clearinghouse majority owned by London Stock Exchange Group, comes into the equation. By reintroducing futures to that clearinghouse, Project Rita can lessen the regulatory burden on the banks.
In 2008, ICE created its own clearinghouse and withdrew its energy and commodity trades from LCH, along with the $16.5 billion of cash and securities pledged there as collateral -- or "margin" in industry parlance -- to back trades. ICE then bought NYSE Euronext in 2013, bringing aboard a derivatives business called Liffe. ICE severed Liffe's ties to LCH, pulling another $11.2 billion from the clearinghouse.
ICE, Eurex
Project Rita will be competing against established venues. Two of ICE's most-active interest-rate contracts are based on Euribor and three-month British pound rates, according to data compiled by Bloomberg. Its largest government bond future is based on the long-term U.K. Gilt. Eurex, the futures market owned by Deutsche Boerse, also offers futures on Euribor, though they are not as popular as on Liffe. Its more-popular futures are based on short-, medium- and long-term German debt -- what's known as the schatz, bobl and bund.
These are among the contracts Project Rita will attempt to break into, the people said. In an earlier iteration of the venture, it was considering listing swap futures, though that idea was shelved after the contracts failed to garner much activity on exchanges such as CME Group, the people said.
The Wall Street executives may want to heed the advice Murray's character gives to MacDowell's near the end of "Groundhog Day." After he's repeated the same day thousands of times from his perspective, she tells him that he has succeeded at creating "a perfect day. You couldn't plan a day like this." To which Murray replies, "You can. It just takes an awful lot of work."
Before it's here, it's on the Bloomberg Terminal.
LEARN MORE