Ghosts of Dead Invaders in Yemen Loom Over Saudi Buildup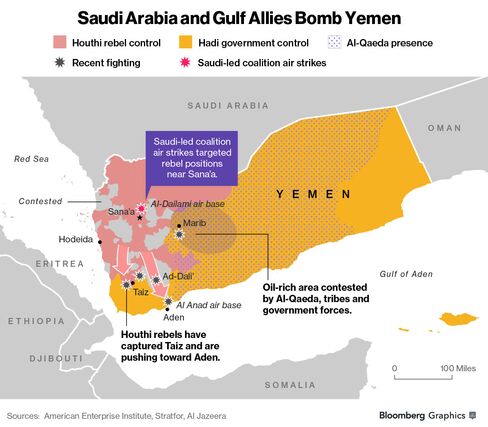 From lookouts on the Yemen border, Saudi soldiers can see villages controlled by their Shiite rebel enemies, scattered across a terrain -- deep ravines and dry riverbeds -- that's ideal for ambush.
"This is the front line," Hamed Alahmari, a lieutenant colonel in the Border Guard, said at the al-Mushareq frontier post, where snipers and soldiers with U.S.-made 50-caliber machine guns stand watch behind green sandbags.
Saudi Arabia hasn't ruled out crossing that line -- sending troops into Yemen to defeat the Houthi fighters it says are tools of Iran. The kingdom is already leading a bombing campaign to halt the rebel advance. Yet airstrikes alone may not achieve Saudi goals, and escalating to a ground operation is fraught with risks in a country where foreign armies have foundered. Analysts warn it could bog the Saudis down in an unwinnable war.
"It's going to be a tough situation for anybody to move into," Buford "Buff" Blount, a retired major general in the U.S. Army, said in a phone interview. "The terrain, the political makeup, it's almost a civil war situation, which is never clean and you don't have a clear front line. It's going to be messy."
Battle Hardened
While Saudi Arabia's armed forces have "good equipment and are fairly well trained," their only actual experience was in the 1991 Gulf War, said Blount, who commanded the U.S. 3rd Infantry Division in the 2003 Iraq war and managed the Saudi National Guard Modernization Program from 1997 to 2001.
By comparison, the Houthis have been fighting Yemen's army for more than a decade. They broke out from their northern base in the past year, driving President Abdurabuh Mansur Hadi from the capital Sana'a and then from his last stronghold in the southern port of Aden. Three weeks of Saudi airstrikes, aimed at restoring Hadi to power, haven't rolled back the Houthi gains.
The rebels have crossed swords with the Saudis in the past, killing more than 100 soldiers during three months of border clashes that started in late 2009.
That frontier, separating the world's top oil supplier and the Middle East's poorest country, stretches through 1,100 miles (1,770 kilometers) of mountains and arid valleys. On the Saudi side, dirt roads have been carved into hillsides to ease troop deployment.
'Rings Hollow'
Since the bombing of Yemen began last month, the Houthis have killed six soldiers in attacks on Saudi border positions.
There have been anti-Saudi protests in Houthi-held areas, though other tribes in Yemen have welcomed the Saudi intervention. Khaled Bahah, Yemen's Saudi-backed vice president, said on Thursday that the combination of coalition airstrikes and Yemeni forces were sufficient for now.
At the al-Mushareq border post, where armored carriers are parked behind the barracks, there's an air conditioned prayer room and majlis or reception room where soldiers drink tea and coffee. "We are prepared for anything," General Nasser al-Mutairi said while inspecting troops.
Nine mostly Sunni Muslim nations have joined the Saudi-led coalition, but it's not clear how many of them would participate in a ground intervention. While Pakistan initially signaled readiness to do so, a parliament resolution passed on April 10 fell short of such commitments, instead declaring support for Saudi Arabia's "territorial integrity."
"Pakistan has decided against committing ground troops to Yemen in support of the Saudi campaign, and the offer to do so by Egypt rings hollow," Soufan Group, which monitors political risk, said in a report Tuesday. "Without an available ground force to consolidate gains and stabilize the country, it is hard to see what the Saudi coalition airstrikes can achieve."
Egypt's army is already battling an insurgency in the Sinai peninsula, and has institutional memories of fighting, and losing, in Yemen.
'Nasser's Gamble'
President Gamal Abdel Nasser backed a revolution by Yemeni republicans against royalists who had support from Saudi Arabia and the U.K. He began by sending an expeditionary force of a few hundred commandos in October 1962. By the summer of 1965, Egypt had 70,000 troops in Yemen, according to "Nasser's Gamble," a 2012 history of the conflict by Jesse Ferris.
"For Egypt, this struggle would prove more costly in lives, treasure, and squandered influence than any of its wars with Israel," Ferris wrote.
Egypt lost as many as 26,000 soldiers by the time it withdrew in 1967, according to Kenneth Pollack's 2002 study "Arabs at War: Military Effectiveness 1948-1991."
Hatem Ali Abu Hatem, a Yemeni born in 1946, recalls joining up as a 16-year-old on the second day after the revolution. He received a week of training from the Egyptians, and then fought alongside them in "fierce battles" in the northern province of Sa'ada, now the Houthi stronghold.
'Civilized Presence'
The Egyptians were "a civilized presence," helping build schools and bringing administrators and religious scholars, yet they still failed to win over much of the country, especially the north, Abu Hatem said.
Centuries before that, Yemen already had a reputation as a quagmire for outside forces. Local tribes defeated or rebelled against a series of generals sent by the Ottoman Turks, then the region's dominant power, to impose order.
"The complicated lines of conflict in Yemen make it hard for anyone to repulse one perceived threat without tending to help a different threat," said Paul Pillar, a professor at Georgetown University in Washington and a former U.S. intelligence officer for the Middle East.
The latest war has displaced more than 120,000 people since airstrikes began, according to the United Nations. Output at the country's sole liquefied natural gas plant has stopped. Millions in the country face "severe" food shortages, according to the Food and Agriculture Organization of the United Nations.
That's unlikely to deter Yemenis, who have "made incredible sacrifices and suffered huge number of casualties" to resist invaders in the past, said Gabriele vom Bruck, a senior lecturer in anthropology and Yemen specialist at the School of Oriental and African Studies in London. "They really hate the idea of a foreign intervention."
(An earlier version of this story corrected the spelling of the analyst quoted in the last paragraph.)
Before it's here, it's on the Bloomberg Terminal.
LEARN MORE