Xiaomi-Backed Ninebot Targets U.S. IPO After Buying Segway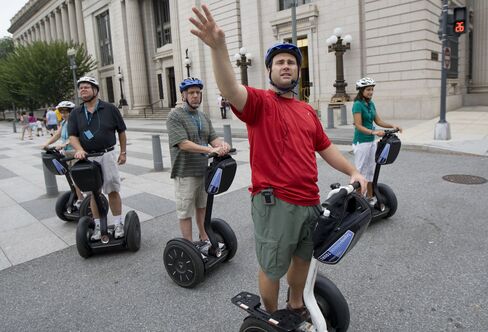 Ninebot Ltd., the Chinese maker of electric scooters, is aiming for a U.S. initial public offering within the next two years, founder and Chief Executive Officer Lufeng Gao said.
Ninebot, backed by China's top smartphone maker Xiaomi Corp., seeks a listing that could value it as much as $50 billion, Gao said. The company this month bought U.S.-based competitor Segway Inc., known for its two-wheeled, electric-powered people movers, in a deal that will help Ninebot develop electric driving, mobile Internet and man-machine interaction technologies for future products.
"My dream or hope is to go for an IPO by mid-2017, to make it a company worth as much as $50 billion," Gao, 36, said in a phone interview from Beijing on Wednesday. "The main consideration for buying Segway was about market expansion. Segway's intellectual property is also a consideration."
Beijing-based Ninebot is profitable and has had an annual revenue growth rate of at least 400 percent since it started selling products in 2012, a pace it expects to sustain in 2015, Gao said.
"Our IPO plan will be subject to possible adjustments according to our financial performance or market share," Gao said. "We'll try to make the company a super unicorn," he said, referring to start-ups such as Facebook Inc. that go public and attract large valuations.
The Bloomberg China-US Equity Index, the measure of the most-traded U.S.-listed Chinese companies, added 0.6 percent on Wednesday, capping a 16 percent gain this year. The Shanghai Composite Index advanced 2 percent at the 11:30 a.m. break on Thursday.
Xiaomi Investment
Xiaomi led an $80 million funding round for Ninebot in October that included Sequoia Capital and Shunwei TMT Capital. Shunwei is a venture capital firm founded by Xiaomi's billionaire chairman Lei Jun. Ninebot was founded in 2012 and its products are now available in more than 60 countries, with production facilities in China, according to its website.
Bedford, New Hampshire-based Segway will become a wholly-owned unit of Ninebot after the merger, according to their joint statement on Wednesday which didn't disclose the terms of the purchase. The deal marks the latest effort of Chinese technology companies seeking to expand abroad through mergers and acquisitions. The combined company will have global market share of more than 60 percent in the short-distance transportation industry, Gao said.
Segway focuses on high-end buyers while the Ninebot products are mainly for less affluent consumers in the electric scooter market, according to Gao. "We'll share our resources, including suppliers and distribution channels," he said.
Gao, who studied mechanical engineering at China's Beihang University, got interested in Segway in 2011 when he saw its self-balancing people mover while traveling in Europe, he said. He then founded Ninebot with a group of engineers including two other alums.
Before it's here, it's on the Bloomberg Terminal.
LEARN MORE