Why Paschi Will Still Be Vulnerable After Raising Capital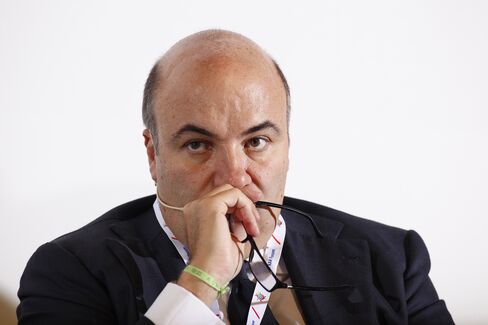 Banca Monte dei Paschi di Siena SpA, which tapped Italy for two bailouts since 2009, will struggle to put its capital woes behind it even after the lender raises 3 billion euros ($3.2 billion) from shareholders.
The doubtful loans the bank hasn't provisioned for will exceed its tangible common equity by 2.7 times after the fundraising, company figures show. That's more than twice most of its large Italian peers. The bank may also have to pay 1 billion euros to close a derivative transaction as regulators have requested.
"In case of a tougher economic environment, the ratio signals that the bank may run out of capital," said Stefano Girola, who helps manage 28 billion euros at Syz Asset Management SA in Lugano, Switzerland.
Chief Executive Officer Fabrizio Viola is cleaning up the balance sheet, reducing risk and selling assets to restore profit at the world's oldest bank, battered by souring credit and derivative bets by former managers that backfired. The lender had the biggest capital shortfall among the banks that failed the European Central Bank's health check last year and on April 10 said its exposure to one counterparty, Nomura Holdings Inc., exceeds regulatory thresholds on capital.
A spokesman for Monte Paschi declined to comment on the bank's buffers and the ECB request. Its common equity Tier 1 ratio, including the boost from the planned capital raising and the reimbursement of state aid, would have been at 11.4 percent at the end of December, above the 10.2 percent set by the ECB.
Investors are meeting Thursday to approve the share sale.
Monte Paschi fell 2.2 percent to 60.35 cents by 3 p.m. in Milan trading. The shares have risen 28 percent this year, compared with a 16 percent increase in the 45-member Bloomberg Europe 500 Banks and Financial Services Index.
ECB Assessment
Unione di Banche Italiane ScpA, seen by analysts as a possible merger partner for Monte Paschi, has 9.5 billion euros of bad loans not covered by provisions, or 1.2 times tangible common equity, a measure of capital used to evaluate a bank's ability to absorb losses. It excludes intangible items such as goodwill.
Monte Paschi "remains vulnerable to structural issues -- low quality in its loan book and lack of profitability," said Alberto Gallo, head of European macro-credit research at Royal Bank of Scotland Group Plc in London.
The ECB gave an unfavorable assessment of Monte Paschi in its supervisory review this year. It cited the bank's high credit risk, difficulty of achieving adequate levels of profitability and an inability to generate capital organically, in addition to reputational and legal risks. Monte Paschi said the ECB urged a merger as well as the capital increase.
Nomura Risks
Paschi's exposure to Nomura, including a 2009 derivative transaction dubbed Alexandria, was about 35 percent of its regulatory capital base at the end of 2014, exceeding the 25 percent limit set by regulators.
Closing Alexandria would cost Monte Paschi about 1 billion euros, according to a letter the bank sent to Milan prosecutors dated Feb. 18 and seen by Bloomberg.
The ECB requested Paschi to close the transaction by July 26 "unless a proven legal impediment arose in the future as a consequence of the ongoing civil proceeding or criminal investigation," the bank wrote in the letter.
Milan's prosecutors on April 3 said they completed an investigation into the derivative arranged by Nomura, a deal the Italian bank allegedly used to hide losses in its 2009 accounts. The two banks are suspected of false accounting and market manipulation.
"Monte Paschi and Nomura may start negotiations to close the synthetic derivative," wrote Luigi Tramontana, an analyst at Banca Akros, in a note Thursday. Paschi may ask "the counterparty to cover at least 50 percent of the potential losses arising from the deal while abandoning its own damage request."
Before it's here, it's on the Bloomberg Terminal.
LEARN MORE