U.K.'s Liberal Democrats Plan Bank Tax Rise to Net $1.5 Billion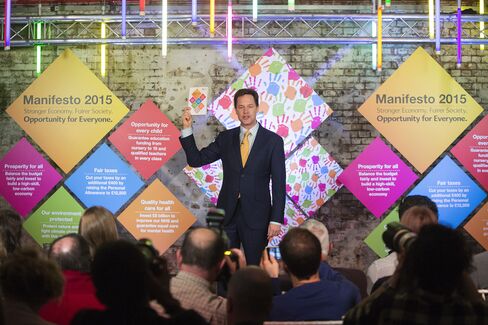 The U.K.'s Liberal Democrats pledged to increase Britain's corporate tax rate on banks to raise an extra 1 billion pounds ($1.5 billion) as part of their election plans.
The party would raise the levy to 28 percent from 20 percent for British lenders to help cut the nation's budget deficit, Chief Secretary to the Treasury Danny Alexander said in an interview on Wednesday. The Liberal Democrats would also retain a tax on bank assets they helped introduce as junior partners in Britain's Conservative-led coalition government.
U.K. Deputy Prime Minister Nick Clegg's party, lagging at about 8 percent in opinion polls, may be in a position, as in 2010, to bargain for its policies to be implemented in return for joining a coalition government. Prime Minister David Cameron's Conservatives and the opposition Labour Party stand neck-and-neck and could each fall short of a parliamentary majority.
Increasing the rate of corporation tax on lenders would be "more evenly distributed across the sector than the current bank levy," Alexander said, as the party published its manifesto in London. "It's going to contribute to deficit reduction. Once the books are balanced we'd take a view on its longevity."
British banks are in the cross-hairs of politicians ahead of elections on May 7. Labour pledged on Monday to impose a levy on bankers' bonuses to pay for a youth employment program and to close the country's non-domicile rules, which allow wealthy individuals to escape paying British taxes on some of their income.
Before it's here, it's on the Bloomberg Terminal.
LEARN MORE