Turkey Worse Than Brazil in Currency Markets Wrecked by Politics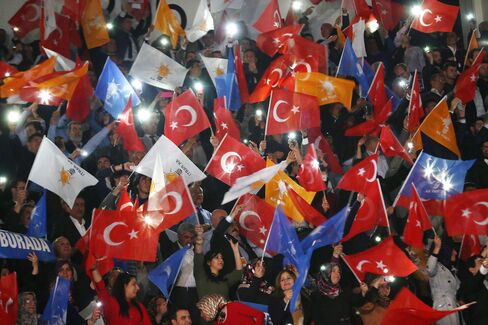 For a view of how unnerving Turkey's elections are becoming for investors, consider the currency market. The lira has just surpassed Brazil's real for this year's biggest nosedive.
While Brazilian President Dilma Rousseff is embroiled in a scandal over kickbacks for government contracts, investors in Turkey are concerned victory for the ruling AK Party in June will usher in a team close to President Recep Tayyip Erdogan that disputes traditional monetary theory and accuses foreigners of undermining the economy.
The lira weakened beyond 2.7 against the dollar for the first time on Wednesday, extending this year's decline to 13 percent, the steepest retreat among 24 emerging-market currencies tracked by Bloomberg. Government borrowing costs have jumped as Turkish two-year yields increased the most among major emerging markets.
"Both currencies are suffering from the negative external backdrop and domestic political woes," Bernd Berg, an emerging-market strategist at Societe Generale SA in London, said by e-mail Wednesday. "While authorities in Brazil are trying to actively address domestic problems, it seems to me that authorities in Turkey are not moving ahead."
Even central bank attempts to stem the lira's slide this week fell short of the mark. While policy makers said on Tuesday they will discuss possible measures "to support the stability in financial markets" at an April 22 meeting, the lira resumed declines amid speculation politicians will keep up pressure on the central bank to cut rather than raise rates.
As the lira tumbled 3.6 percent this month, the real has climbed 5.6 percent, partly benefiting from an agreement by party leaders in Brazil's ruling coalition to support the government's plan to trim budget deficits.
Turkey's underperformance this year is also mirrored in the bond market, where its two-year note yield has jumped 1.20 percentage points versus a drop in the rate for similar-maturity Brazilian securities.
Before it's here, it's on the Bloomberg Terminal.
LEARN MORE