Sunac's Sun Says Purchase of Troubled Kaisa Going as Planned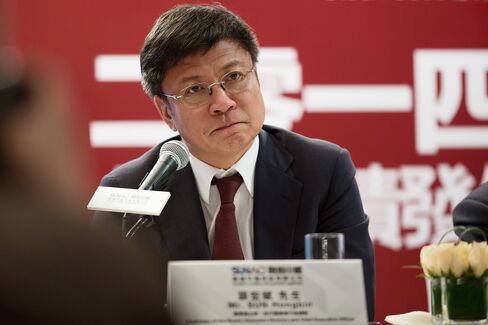 Sunac China Holdings Ltd. Chairman Sun Hongbin said his company's proposed acquisition of cash-strapped developer Kaisa Group Holdings Ltd. is proceeding as planned.
The purchase and reorganization "continue to have the support" of the two biggest shareholders and the government, Sun said in a post on his Weibo microblog on Tuesday. Tianjin-based Sunac agreed to buy a 49.3 percent stake from Kaisa's founding family in January and made a general offer for the rest of the company pending a successful debt restructuring.
Sun's comments sought to quell speculation that Kaisa is withdrawing from the sale after its founder Kwok Ying Shing returned as chairman on Monday, three months after his resignation amid an official corruption probe. Kaisa, based in Shenzhen, must this month pay interest on dollar bonds to avoid becoming China's first real estate company to default on U.S. currency securities.
"Sun himself said the chance of the acquisition being completed isn't more than 50 percent," said Samson Man, a Hong Kong-based analyst at CMB International Capital Corp. "With the old chairman back, my guess is that the deal may be called off. Sunac should focus more on their own business rather than spend all this time on acquisitions."
Some senior Sunac executives advised Sun to back out after Kwok's unexpected return intensified concerns that the acquisition may be more complicated than initially thought, according to a person with knowledge of the matter. Sunac is arranging a meeting with Kwok, the person said, asking not to be identified as the discussions are internal.
Phone calls to Sunac's Tianjin-based press office went unanswered.
Mended Relations
Kaisa's $800 million of 8.875 percent 2018 notes rose 0.5 cents to 70.3 cents on the dollar as of 10:25 a.m. in Hong Kong, Bloomberg-compiled prices show. The bonds have rallied 7.1 cents this week to the highest since Feb. 9 after Kwok was reinstated as Kaisa's chairman.
The company's shares have been suspended from trading in Hong Kong since March 31, the same day Kaisa postponed the release of its 2014 results to give auditors more time to verify its accounts. There may be a "significant adjustment" to its unaudited numbers, the company said, without specifying when it will release the results.
Sino Life Insurance Co., Kaisa's second-biggest shareholder, gave the developer a 1.38 billion yuan ($222 million) loan to help it pay for land.
The Kwok family is likely to take back control of Kaisa in the future and it's "very clear" it has mended relations with the government, Kenny Wu, a credit analyst at Citigroup Inc., wrote in an April 13 note.
Authorities in Shenzhen lifted a four-month restriction on some sales of Kaisa apartments, the developer said last week. However, local courts were preventing it from selling parts of the projects, the company said.
Before it's here, it's on the Bloomberg Terminal.
LEARN MORE