Blackstone Cements Its Dominance With Real Estate Deals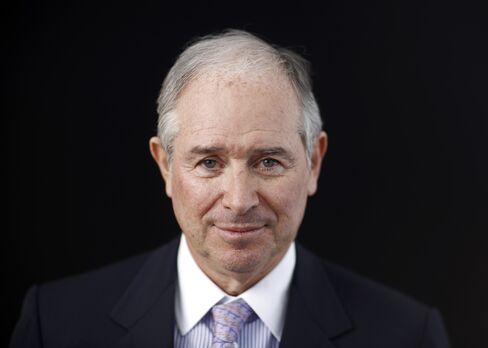 Steve Schwarzman is having a very good year.
Blackstone Group LP, the private equity firm he co-founded in 1985, sidestepped much of the fallout from slumping oil prices that hit competitors. Since last year, it's been able to collect performance fees at an accelerated rate from a buyout fund started just before the financial crisis.
Its real estate unit, already the biggest of its kind, has raised almost $15 billion in just four months for a new fund. Last week, it led a deal to buy $23 billion in assets from General Electric Co., the largest real estate transaction since the crisis.
The moves highlight Blackstone's dominance in alternative asset management, a position the New York-based company may further cement when it publishes first-quarter earnings April 16. Analysts expect the firm to report a 40 percent jump in economic net income to $1.14 billion, according to the average of 11 estimates in a Bloomberg survey. Forecasts for Blackstone's major publicly traded rivals -- KKR & Co., Carlyle Group LP and Apollo Global Management LLC -- are for falling profit.
Blackstone "has massive scale, an informational advantage and deeper pockets" than peers, said Stephen Ellis, an analyst with Morningstar Inc. in Chicago. "There may be softness in private equity, but real estate is going gangbusters."
Blackstone has long been the biggest manager of alternative assets, in part because it diversified more successfully than its peers into asset classes such as real estate and hedge funds.
$300 Billion
"The others are definitely weighted toward one niche or another," Ellis said in a telephone interview. "Apollo is weighted towards credit, while Carlyle and KKR are more weighted toward private equity."
Assets under management at Blackstone were at $290 billion at the end of last year, almost $100 billion more than the closest competitor, Carlyle, and could soon surpass $300 billion. Its market capitalization, at $46.7 billion, exceeds the combined value of Carlyle, KKR, Apollo and Fortress Investment Group LLC.
Blackstone's shares have rallied 21 percent this year as most of its peers have declined. KKR is down 1.2 percent, Apollo has lost 7 percent. Carlyle has gained 3 percent.
Real Estate
Much of Blackstone's dominance reflects the growth of its real estate group, the firm's largest with $81 billion in assets at year-end. The unit spotlighted its clout when it teamed with Wells Fargo & Co. to buy office buildings and other properties from GE. It was the biggest real estate purchase for Blackstone since its $26 billion takeover of Hilton Worldwide Holdings Inc. in 2007. The hotel company, which went public in 2013, is up 16 percent this year, elevating Blackstone's gain in the deal to about $14.8 billion, the most ever in private equity.
After sales this year of warehouse owner IndCor Properties Inc., mall operator Kimstone and other holdings, Blackstone real estate chief Jon Gray -- widely viewed as Schwarzman's eventual successor -- is gathering more investor capital. His newest fund, for which he's gathered $14.5 billion so far, will be the largest real estate pool ever.
He's putting money to work quickly. Last week, in addition to the GE pact, the group struck a deal to buy shopping-center owner Excel Trust Inc. for about $2 billion. In March it agreed to buy Chicago's Willis Tower, the second-tallest building in the U.S., for $1.3 billion.
Commercial Property
Blackstone's role as the biggest private equity investor in the real estate industry may hurt the company in the event of a slowdown. Commercial-property prices have climbed about 7 percent past the prior boom's peak, according to Moody's Investors Service. The U.S. Federal Reserve may raise its benchmark interest rate later this year, which could hurt real estate along with other investment assets.
The private equity unit, with $73 billion in assets at year's end, is benefiting from performance fees earned from a $21.7 billion buyout pool it raised from 2005 to 2007. The fund, which struggled when the financial crisis dragged down holdings, crossed a return threshold in last year's second quarter that's allowing Blackstone to collect performance fees at an accelerated rate.
The group's sales included shares of pharmaceutical company Catalent Inc., U.K.-based theme park operator Merlin Entertainments Plc and Pinnacle Foods Inc. That unit, too, is raising more money from investors, seeking at least $16 billion for its seventh buyout fund.
For Schwarzman, a billionaire who's the largest shareholder in Blackstone, there's another way to measure just how good a year he's having: His personal net worth has climbed by $1.6 billion since the start of this year, to $12.5 billion, according to the Bloomberg Billionaires Index.
Before it's here, it's on the Bloomberg Terminal.
LEARN MORE