Ruble Surge Boosts Putin for Call-In Show as Consumers Hurt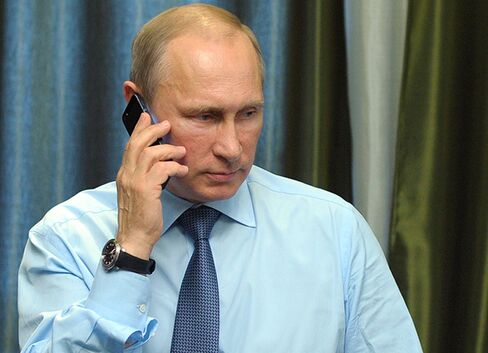 Don't blame President Vladimir Putin for bragging about the Russian economy.
What Putin has going for him is that the ruble has morphed into the world's best currency this year after languishing among the worst in 2014. He can also point to local-currency bonds that have handed investors the biggest returns in dollar terms among developing countries in 2015 after suffering the largest losses last year.
If Putin is gearing up for a harder sell during his annual call-in show Thursday, it's because his audience is growing poorer for the first time since he became president 15 years ago. Focusing on the currency, buoyed by higher oil prices and easing tensions in Ukraine, will allow the Russian leader to sidestep questions about the economy, just entering its first recession in six years with consumers bearing the brunt.
"The ruble's strengthening will be actively used as a sign that not everything is so bad," said Tatiana Orlova, chief Russia economist at Royal Bank of Scotland Group Plc in London. "But the picture with economic growth isn't very clear and optimism is premature."
The setting will be Putin's call-in program, a telethon held almost every year since 2001 in which the Russian leader fields questions for hours. This year's "Direct Line" with Putin was flooded with "socio-economic" queries, including questions about wages, price growth, currency exchange rates and pensions, according to the president's spokesman, Dmitry Peskov.
Inflation, Ruble
No surprise there. The economy has eclipsed inflation as the nation's top concern, according to a survey published on March 31 by the state-run All-Russia Center for the Study of Public Opinion, known as VTsIOM.
Lashed by inflation, high borrowing costs and the ruble's nosedive last year, the consumer is yet to be rewarded for supporting Putin's gambit in neighboring Ukraine. Even with a tenuous cease-fire and stabilizing oil prices, the central bank predicts that the economy will shrink as much as 4 percent this year.
The outlook is dim as clashes persist between pro-Russian separatists and the government in Kiev, reducing prospects that the U.S. and the European Union will ease sanctions imposed against Russia last year.
Ruble Rally
While the economy is still hurting, markets are healing after the panic that swept investors late in 2014. The Russian currency has gained more than 22 percent versus the dollar this year, recouping part of its 46 percent slump in 2014.
The ruble strengthened below 50 against the dollar on Wednesday for the first time since November. It traded 0.2 percent stronger at 49.5960 against the dollar by 10:21 a.m. in Moscow, its fourth day of advances.
"The overall recovery in the ruble since the start of the year is mostly a result of a stabilization in global oil prices," Vladimir Miklashevsky, a strategist at Danske Bank A/S in Helsinki, said by e-mail. "Looking ahead, we expect ruble weakness to resume, driven by significantly higher Russian inflation than in the outside world."
Oil's rebound from a six-year low and the cease-fire in Ukraine have improved investor sentiment toward Russian assets. The ruble carry trade handed investors a 29 percent return so far this year, the most in the world and almost nine times the rate for India's rupee, the second-best performer, according to data compiled by Bloomberg. Five-year credit default swaps, contracts that insure Russian debt against non-payment, narrowed to the lowest level since December.
'More Confident'
"Today investors are hot for Russia" after what's "been a roller coaster," Ogeday Topcular, a Geneva-based money manager at Ram Capital SA, which oversees $250 million in emerging-market debt, said by e-mail on Monday. "There is still risk but now investors are more confident."
The ruble rally is paving the way for the central bank to accelerate monetary easing after two rate cuts this year brought the benchmark to 14 percent following six increases in 2014, according to Goldman Sachs Group Inc. and Morgan Stanley. Derivative traders also see borrowing costs falling, with forward-rate agreements signaling at least 125 basis points of reduction in the next three to six months.
Steepest Decline
The change in market sentiment has yet to translate into gains for consumption, which accounts for about half the economy. Most gauges of Russians' economic wellbeing are showing the deepest deterioration since Putin came to power.
Real wages in February shrank the most since 1999 as the fastest inflation in 13 years eats away at incomes, stoking a two-month slump in retail sales. Economists estimate that all the key consumer indicators -- from disposable incomes to unemployment -- fared even worse in March.
"In order to boost morale among Russians, Putin might argue that recession is likely to prove short-lived," said Piotr Matys, a London-based foreign-exchange strategist at Rabobank.
Consumer confidence last quarter sank to the lowest since 2009. This year, 20.3 million people, or about one-seventh of the population, will be living beneath the subsistence level, according to the World Bank, which said in a report this month that Russia is at risk of the "first significant" increase in its poverty level since the crisis in 1998-1999.
While their economic fortunes are declining, fewer Russians in February believed mass protests were possible over falling standards of living than a year earlier, according to a poll by the Levada Center. Putin's approval rating hasn't fallen below 80 percent since April, according to VTsIOM.
Worst Over?
Top Russian officials have already declared the worst of the crisis all but over.
Economic growth may pick up as soon as the second half, Finance Minister Anton Siluanov said Tuesday. Economy Minister Alexei Ulyukayev said April 8 that predictions of Russia's economic demise are proving to be "exaggerated."
The turn for the better has yet to manifest itself in key economic indicators. Gross domestic product shrank 1.9 percent in the first two months from a year earlier. GDP rose 0.6 percent in 2014, the slowest pace since a contraction in 2009. That compares with growth that averaged about 7 percent during Putin's first two terms as president in 2000-2008.
The risk for Putin is that the woes plaguing Russia will come back to haunt it.
"I think the deterioration of the sentiment at the end of last year has been quicker than expected, and that the current improvement in sentiment is also surprising many in the market," said Sebastien Barbe, the Paris-based head of emerging markets research and strategy at Credit Agricole CIB. "But at some point there will also be a comeback of volatility, as there remain major uncertainties beyond the short term."
Before it's here, it's on the Bloomberg Terminal.
LEARN MORE