Renzi Seeks Obama Blessing for Revival of Hope and Change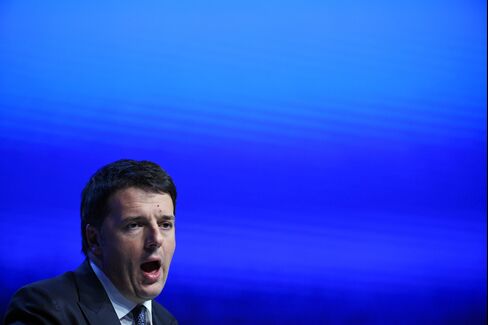 Though his office is just a few minutes' drive from the Vatican, Italian Prime Minister Matteo Renzi will fly more than 4,000 miles to seek a blessing this week.
Renzi visits the White House on Friday to meet U.S. President Barack Obama, still the foremost embodiment of earthly power, looking for endorsement of his ambitious economic program, help stemming Libya's slide into chaos, and new efforts against Islamic State. He'll also want to see a little of the presidential star dust rub off.
"For Italian politicians, the visit to the White House has always been like seeking a blessing," Roberto D'Alimonte, a political science professor at Rome's Luiss University, said in a phone interview.
Italian leaders have long made pilgrimages to the White House because of the traditionally close relations with the U.S. But for Renzi, there is more at stake. With critics asking when his reforms will boost Italy's faltering economy, the 40-year-old prime minister could use a display of statesmanship to replenish his political capital for the battles ahead.
Stabilizing Libya
With global attention on Ukraine, Iran and Syria, Italy's focus is on the threat posed by instability on the southern shore of the Mediterranean. At the White House, Renzi will lobby Obama for more international involvement to support United Nations work in Libya, though he'll stop short of seeking a military role for Italian forces, wary of the country's colonial history in the country.
"We're tackling the issue diplomatically," Graziano Delrio, Renzi's chief of staff until named transport minister last month, said in an interview. "We're reinforcing the work of the UN special envoy because only when the context has been stabilized can we think about a possible presence or aid."
The White House said in a statement last month that Obama and Renzi will tackle issues including Libya, U.S.-EU unity on Ukraine and the need to counter extremist groups like Islamic State throughout the Middle East.
Both at the White House and in a speech at Georgetown University on Thursday, Renzi is also expected to seek moral support for the battle he is waging at home. Critics charge only a fraction of his reform agenda has been completed, with Italy still suffering its longest recession since World War Two.
Star Quality
While Obama's domestic ratings, and his ability to push through his agenda, have waned as he enters the final phase of his presidency, he still has a star quality for many Europeans that the continent's own leaders have struggled to capture. In the U.K., both the Conservatives and Labour have hired former Obama operatives to advise on campaigning for next month's general election.
Renzi himself has borrowed elements of Obama's 2008 campaign as he struggles to shake up Italy. The 40-year-old premier wants the encounter to help drive home to Italian voters that he, like the early Obama especially, represents hope and change.
"Renzi has understood what Obama understood when he challenged Hillary Clinton in his first presidential campaign," D'Alimonte said. "People wanted change."
Before it's here, it's on the Bloomberg Terminal.
LEARN MORE