Pakistan Finance Minister Predicts Rate Cut, Boosting Stocks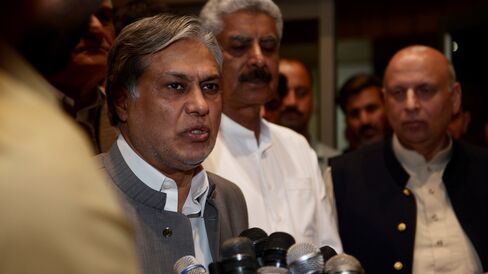 Pakistan's Finance Minister Ishaq Dar said the central bank is likely to cut interest rates again at its next meeting, helping to boost the nation's stocks.
In an interview in London on Wednesday, Dar also said the government is committed to its privatization program and may be able to sell Pakistan Steel Mills Corp. and the core unit of Pakistan International Airlines Corp. by the end of 2015. The government expects to return to international debt markets in the fiscal year starting July 1, he said.
Pakistan's benchmark stock index rose 0.8 percent at 10:24 a.m. local time, headed for the highest close in a month, on Dar's rate cut outlook and steady oil prices, Qasim Shah head of international equity at AKD Securities said in an e-mail.
Pakistan's inflation rate was 2.49 percent in March, the lowest since 2003, while the State Bank of Pakistan's discount rate stands at 8 percent following a 50 basis point cut on March 21. The nation has benefited from the decline in oil prices over the last year.
"I think any sensible calculation would expect a further cut in the next meeting" in early May, Dar said. The central bank is independent, he noted, and declined to predict the size of a rate reduction to avoid a perception of interference.
Dar, 66, is leading Prime Minister Nawaz Sharif's national economic recovery plan and raising funds from equity and bond sales to narrow the budget deficit. The government forecasts the shortfall will contract to 4.9 percent of gross domestic product this fiscal year, from 5.5 percent in the year before.
Privatization Plan
The government plans to sell international debt in the new fiscal year, Dar said. In 2016, some outstanding international bonds will mature, he said. "Surely we will be back with our friends in the international market" when that occurs, he said. The government wants to sell both traditional bonds and sukuk, he said, declining to specify a quantity.
"We have a firm commitment to implement the privatization agenda" even in the face of potential opposition to the sale of state companies over possible job losses, Dar said.
The government is seeking a strategic partner to take a 26 percent stake in the core airline activities of PIA, he said.
"The whole idea is to expand," Dar said. "It will be better for the employees of PIA if the airline does well."
'Swiss Air model'
The Sharif government is trying to make PIA "look attractive," Nasim Beg, vice chairman of MCB-Arif Habib Savings & Investments Ltd. in Karachi that oversees 50 billion rupees ($490 million) in stocks and bonds, said by phone. "It looks like they're following the Swiss Air model. They kept one company with all the problems and made one for planes and routes and that became viable. That can be turned around and run well and brought back to life."
The government raised $1.02 billion from the sale of a stake in the nation's largest lender, Habib Bank Ltd., on April 11. Foreign exchange reserves, which were enough to cover just two months of imports in January 2013, have doubled in the past year to $16 billion. Dar is targeting to increase foreign reserves to $20 billion by 2017-18.
Pakistan's Habib Bank stake sale reduces external vulnerabilities and is credit positive, Moody's Investors Service said in a report today. The transaction indicates the government's "strong commitment" to reforms, it said.
Dar said he doesn't foresee economic consequences for Pakistan from its unwillingness to contribute to the Saudi Arabia-led military intervention against rebel forces in Yemen. Oil is purchased from Gulf states under commercial terms, and he doesn't expect any change in labor policies in the Gulf that let Pakistanis work there and send home remittances.
Looking northeast, Dar said almost four dozen projects are likely to be signed when Chinese President Xi Jinping visits Islamabad to promote the China-Pakistan Economic Corridor. "We hope" the visit will occur next week, he said.
The Sharif government would like to improve trade with neighbor India, Dar said, but "there is a delay from the other side, not from Pakistan."
Before it's here, it's on the Bloomberg Terminal.
LEARN MORE