After Meerkat, the live video-streaming application, debuted in February, it got the kind of press that would be enviable for any new business. New York Times columnist Maureen Dowd mentioned it in a column. Techcrunch wrote a post about why people love it and why Twitter Inc. should acquire it. The Verge said Meerkat "conquered all" at South By Southwest, a technology conference in Austin, Texas, in March.
But today? Crickets. The application isn't even ranked in the top 1,500 on Apple Inc.'s App Store. Periscope, a live-streaming app that Twitter acquired and rolled out last month, is doing much better -- ranked 169 in Apple's store, according to AppAnnie. Still, neither are runaway hits.

Here's how things are shaking out in the live-streaming wars, according to 7Park Data Inc., a New York-based company that tracks and analyzes application activity on smartphones: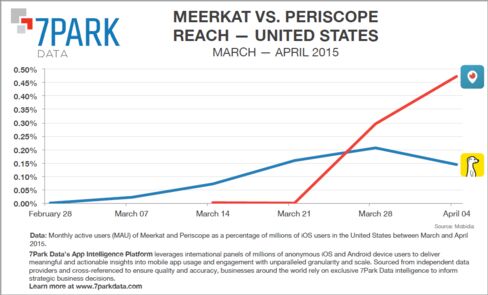 While the chart highlights Periscope trumping Meerkat in popularity, neither application has more than half a percent of current iPhone users on it. Representatives for Periscope and Meerkat didn't respond to requests for comment.

"The media clearly wants this to be a huge hit,'" said Tero Kuittinen, a managing director at consulting firm Magid Associates in New York. He wrote an opinion piece last month criticizing the outsize praise for the streaming applications when the volume of downloads doesn't match the hype.
"This happened with Path, this happened with Secret, this happened with Ello, this happened with Yo," Kuittinen said. "There are these sort of fads that catch fire in a very small group in tech, but it's not a thing."

That doesn't mean Meerkat or Periscope are sputtering. The applications have been active only for a few months, not years. Already, investors, celebrities, politicians and others have been experimenting with them. Periscope is already big enough that HBO got upset when its users started live-streaming "Game of Thrones" this week. One Wall Street analyst, Colin Sebastian at Robert W. Baird & Co., said that Periscope's success makes him feel more positive about Twitter's prospects, "coinciding with improving pace of innovation" at the social-media company.
Josh Elman, a venture capitalist at Greylock Partners who is invested in Meerkat, says it's not time to look at the download numbers -- or the hype.
"It is small. It's early. This is not a phenomenon yet," Elman said. "A lot of people who are looking for the next big thing are finding that they have this experience here that they haven't had before."
Social-media products typically fuel a wave of downloads at the beginning, and only a small core audience ends up actually using them and building them up over time, Elman said.
"Is all this buzz about what it is today, or is it buzz about what it one day could be?" he said.
Before it's here, it's on the Bloomberg Terminal.
LEARN MORE