Manhattan Office Towers Trump Bonds as Korean Funds Hunt Yield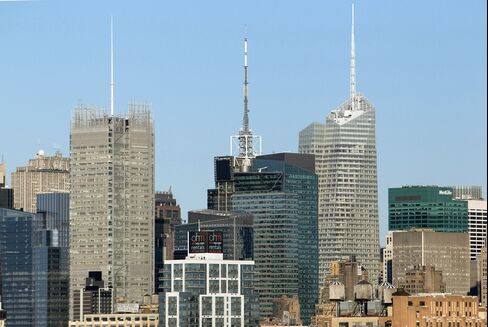 The job description for a fixed-income analyst in Seoul is getting broader and more exotic.
Kim Eun Gie, a credit analyst at NH Investment & Securities Co. who used to spend his days analyzing corporate bonds, is now studying overseas real estate and heading out to meet investors in alternative investments. National Pension Service helped buy a Swedish shopping mall last quarter and is among a group buying a German logistics facility, people familiar said. Shinhan Life Insurance Co. and Hyundai Marine & Fire Insurance Co. helped underwrite a $220 million loan to buy a Manhattan office tower.
Seven years of central bank stimulus has pushed developed-nation bond yields to record lows and global stocks to unprecedented highs, making it harder to get returns from publicly traded securities. Asset managers have responded by lifting real-estate holdings 30 percent in the past 16 months.
"Boosting returns is the real issue now," said Kim, whose employer NH Investment is the nation's biggest brokerage by assets. "It used to be that stocks and sovereign bonds were negatively correlated, but now because of global monetary easing, they move in the same direction. That's eliminating any portfolio diversification effect from conventional assets."
The yield on three-year company notes rated AA- over similar government debt fell to a record low of 1.946 percent last week as the Bank of Korea cut its economic forecasts and kept its benchmark rate unchanged at a record low of 1.75 percent. The Kospi index returned 9.4 percent in the past three years, compared with 46 percent for an MSCI global stock index.
Bryant Park
Korean asset managers' total investments in real estate increased to 31.7 trillion won as of April 14 from 24.2 trillion won at the end of 2013, according to data from Korea Financial Investment Association.
Shinhan Life and Hyundai Marine were among seven firms that underwrote mezzanine debt for Manhattan's Three Bryant Park, people familiar with the matter said in January.
"With the prices of prime office buildings in the big cities around the world going up, we've been focusing on loans," said Shin Jun Hyun, a Seoul-based head of real estate at Hyundai Asset Management Co. "Investors are comfortable with real estate investments, which are considered relatively safe" among alternative investments, he said.
Total alternative investments by Korean Teachers Credit Union will be 9.5 trillion won by Dec. 31, with 40 percent offshore. KTCU plans to lift new alternative investments 2.5 trillion won this year at home and abroad, to 32.6 percent of total assets from 29.4 percent, it said in a March statement.
Allocations Lifted
The National Pension Service plans to increase its allocation for alternative investments to 11.5 percent this year from 9.9 percent at the end of 2014. The NPS held 60 percent of the assets in bonds, and 30 percent in stocks at the end of January, according to its website.
"As well as adjusting our allocations, we've been trying to diversify our strategy across regions and styles," spokeswoman Chi Young Hye said by phone on April 14. "We see the share of alternative investments increasing further."
Military Mutual Aid Association, with 6.8 trillion under management, is also in the group working on the German logistics purchase. It plans to increase holdings of alternative investments to 76.8 percent by Dec. 31 from 75.5 percent in 2014. Real estate made up 41.7 percent of total investments last year, it said by e-mail on April 15.
The government last year announced rules that from 2016 will force employers to provide retirement plans for staff while rolling back controls on how such assets are managed. That's going to boost privately managed pension funds to 170 trillion won by the end of 2020, from 80 trillion won at the end of 2013, according to finance ministry estimates.
"The proportion of overseas investments in real estate seems to be on the increase," said Hyundai Asset's Shin. "While returns on stocks and bonds haven't been good in the past several years, the money that institutional investors need to manage is increasing."
Before it's here, it's on the Bloomberg Terminal.
LEARN MORE