As the hunt for wage growth takes center stage in the economic recovery, workers nationwide are rallying Wednesday for an increase in the minimum wage to $15 an hour from the prevailing $7.25.
The message behind the so-called Fight for $15 has gained attention in recent months, with companies such as Wal-Mart Stores Inc. and McDonald's Corp. announcing pay-floor increases, and the city of Seattle approving a phased hike to $15 an hour. States are getting in on the action, too.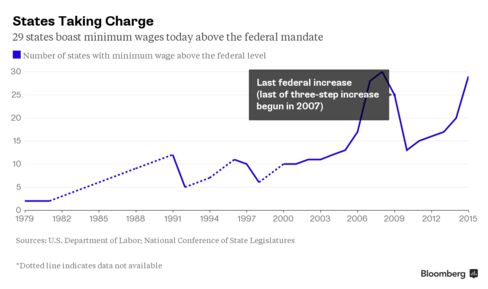 Some 29 states boast wage floors above the U.S.-mandated $7.25, just one short of the record 30 that precipitated the most recent federal increase six years ago.
That raise was the final piece of a phased hike that started in 2007 after a decade of inaction, during which the number of states beating the national minimum escalated from six.
The pay raise the Fight for $15 is demanding would be extraordinary. It would represent a 107 percent jump in the minimum wage at the federal level, making it the largest ever one-time increase, surpassing the current record holder in 1950. It's also well above the $10.10 wage that President Barack Obama has advocated.
The law's history can be broken down into two distinct periods since the floor was established by Congress in 1938 at 25 cents an hour. The number of increases has been evenly split over the timeline, with 11 hikes through 1976, and 11 from 1977 to the present.
The chart below shows raises in the wage floor were larger and more evenly spaced during the earlier period, arriving in most cases five to six years apart with bumps averaging 24 percent. The record 88 percent increase in 1950 brought the rate to 75 cents, or $7.30 in current dollars and just above the minimum now. Further increases brought it to $1.60 in 1968, which was equivalent to $10.79 today — an all-time high in terms of buying power.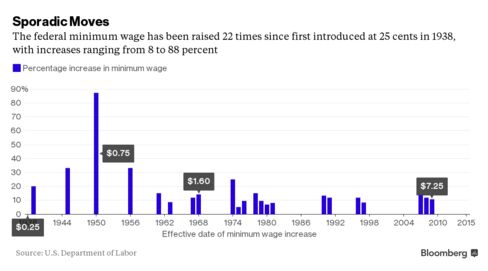 However the size and frequency of increases have become far less ordered since 1977. They've consisted of clusters of multi-step raises averaging 11 percent, with large gaps in between. The U.S. has now gone six years without a jump in the minimum wage.
There's a lot of debate on the pros and cons of raising the federal floor, and relatively little consensus. Though if state support is any indication, the U.S. may be poised for at least one, if not a series of back-to-back bumps in the near future.
Before it's here, it's on the Bloomberg Terminal.
LEARN MORE