KKR Said to Raise $1.3 Billion for Loans as Banks Retreat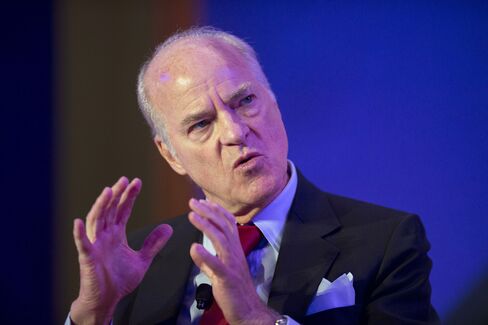 KKR & Co. gathered more than $1.3 billion for a direct lending fund, two people with knowledge of the matter said, as banks pull back because of new regulations.
The firm, led by Henry Kravis and George Roberts, collected the money in about a year, said the people, who requested anonymity to discuss private details. With leverage, the fund will have lending capacity of about $3 billion. It follows a $414 million lending pool raised in 2011.
Kristi Huller, a spokeswoman for New York-based KKR, declined to comment on fundraising.
Private equity firms and hedge funds are raising money to lend to companies as banks, hampered by heightened capital standards, scale back their operations. Loans made by KKR, Blackstone Group LP's GSO credit unit, Oaktree Capital Group LLC and Carlyle Group LP have helped mid-size companies fund mergers and acquisitions, refinancings and recapitalizations.
"Clearly Dodd-Frank was a driver in allowing private credit managers into the market in a big way," Bob Jesenik, chief executive officer of Aequitas Capital Management, a Portland, Oregon-based credit and private equity manager, said of the 2010 U.S. law that restricted some bank activity and imposed capital requirements. "Banks have both regulatory and operational restrictions since the financial crisis."
'Immense' Opportunity
KKR's fund, which will be led by Erik Falk and Chris Sheldon, is the first credit vehicle the firm has finished raising since it said Craig Farr would leave. Farr, who joined KKR in 2006 and oversaw credit and capital markets activities, is moving into an advisory role, Huller said in February, and his responsibilities were assumed by Adam Smith, who already managed the capital markets unit, and Nat Zilkha and Alan Burke, who ran the credit funds.
KKR's first lending fund was producing a 10 percent annualized return after fees and was valued at 1.2 times cost as of Dec. 31, according to a KKR regulatory filing. The people familiar with the new fund said it started investing last year after wrapping up its initial fundraising stage in June.
"We see an immense opportunity," Bill Janetschek, KKR's chief financial officer, said at a February conference in Boca Raton, Florida. "You see a lot of the local banks not willing to lend to the middle market. So we are the source of capital."
Before it's here, it's on the Bloomberg Terminal.
LEARN MORE