Hotel Owner MCR Is Said in Talks to Revamp JFK Terminal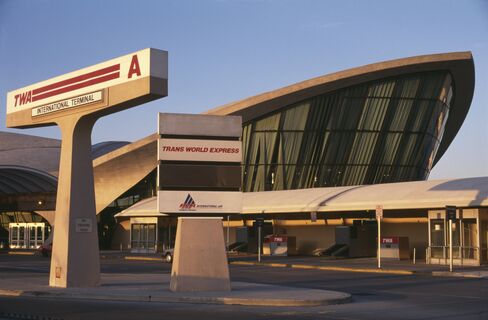 A group led by hotel company MCR Development LLC is in talks with the Port Authority of New York and New Jersey to revamp the former Trans World Airlines terminal at New York's John F. Kennedy International Airport into a hotel, according to two people with knowledge of the matter.
JetBlue Airways Corp. is taking part in the MCR bid with a small financial investment, said the people, who asked not to be identified because talks are private. The airline, based in Long Island City, New York, is interested in preserving the aviation history of the building and having a modern hotel in proximity to its own terminal at JFK, one of the people said.
The venture is a one-time deal on the part of JetBlue, which doesn't plan to invest in more hotels, the person said. Its name wouldn't be on the JFK property.
Philip Stewart, a JetBlue spokesman, declined to comment. MCR Chief Executive Officer Tyler Morse didn't return a phone call seeking comment, nor did Ron Marsico, a representative for the Port Authority, which runs the airport.
MCR Development owns 88 hotels in 23 states, according to press release last week. The Wall Street Journal reported earlier Tuesday that MCR was working with JetBlue.
Before it's here, it's on the Bloomberg Terminal.
LEARN MORE