Holcim Shareholder Eurocement Seeks Board Seat After Merger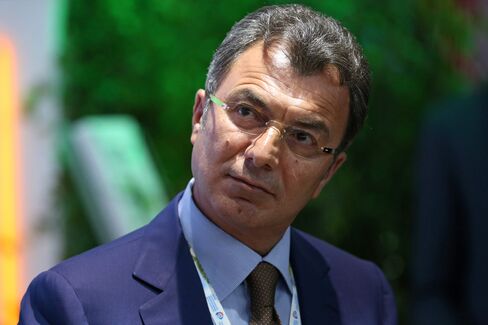 Holcim Ltd.'s second-biggest shareholder, Eurocement Holding AG, signaled it may accept the merger of the Swiss cement maker with French rival Lafarge SA if it gets a board seat at the combined entity.
Holcim Chairman Wolfgang Reitzle earlier this month backed a directorship for Eurocement to blunt the Russian company's opposition to the mega merger. Eurocement said yesterday it nominated its founder and owner, Filaret Galchev, as candidate for the board of the combined company.
Eurocement, which owns a 10.8 percent stake in Holcim, expects the Swiss company and Reitzle to "honour their proposal," it said in an e-mailed statement. Holcim spokesman Peter Stopfer said the Swiss company is now examining how the plan could be implemented after Holcim and Lafarge already nominated 14 board members to run the enlarged group.
The willingness of Eurocement to join the board of LafargeHolcim indicates that the companies are making progress in overcoming lingering opposition to the deal that would create the world's biggest cement maker with a value of $48 billion. Harris Associates, which is Holcim's third-biggest shareholder with 6.4 percent, yesterday said it's "leaning" toward voting in favor of the deal.
Lafarge rose as as much as 4.5 percent in Paris trading today, while Holcim gained as much as 2.6 percent in Zurich.
Tweaked Agreement
The companies tweaked the original merger agreement in recent weeks to win over Holcim investors who were unhappy about the performance of Lafarge since the deal was agreed last year. The Swiss company will now have a bigger stake in the new entity, and the cement makers also appointed Eric Olsen to lead their combined operation after Holcim shareholders opposed Lafarge CEO Bruno Lafont as head of the new group.
Thomas Schmidheiny, Holcim's largest shareholder and the billionaire co-architect of the merger, supported the tie-up from the beginning.
Two-thirds of Holcim's investors need to approve a capital increase that is necessary for the deal to go through. Lafarge's shareholder meeting is on May 7, one day before the Swiss company convenes.
Holcim and Lafarge have predicted the merger will lead to cost savings of 1.4 billion euros ($1.5 billion) annually, giving them an advantage over rivals after a global recession eroded demand for building materials and forced some kilns to run at a loss.
Before it's here, it's on the Bloomberg Terminal.
LEARN MORE