Fiat Chrysler Calls on 'Lethargic' Car Industry to Consolidate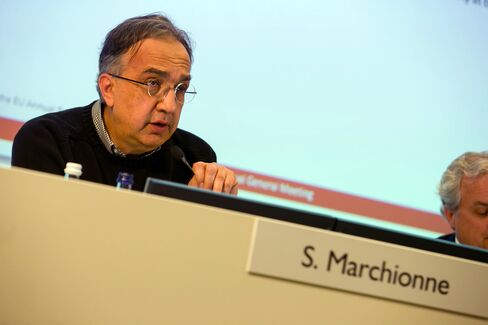 Fiat Chrysler Automobiles NV Chief Executive Officer Sergio Marchionne has called repeatedly for consolidation in the auto industry. Those calls have so far gone unanswered.
Marchionne, who engineered the merger between Italy's Fiat and U.S. counterpart Chrysler, is now planning to back his rhetoric with data aimed at showing the benefits of a new round of consolidation, he said Wednesday in Amsterdam, where Fiat will hold its annual shareholders meeting.
Marchionne said last year that there's potential to form a new No. 1 in the auto industry, and he'd been promoting the idea ever since. Other carmakers have yet to jump on the bandwagon with demand recovering in the U.S. and Europe, easing pressure to restructure to cut capacity.
The Fiat Chrysler boss said such a view is shortsighted as the high costs for developing new vehicles means that mass-market carmakers aren't generating returns needed to support the investment.
"This is a big issue" and highlights the need for closer cooperation, Marchionne said. "While other industries have adapted at the speed of light, we continue to be lethargic and unwilling to change."
Still, Marchionne said he understands the resistance shown by potential partners.
"One of the most difficult things to do is to get the turkey to invite himself to Thanksgiving dinner," he said.
Before it's here, it's on the Bloomberg Terminal.
LEARN MORE