Brazil's $212 Billion Dilemma Has Levy Pushing Bond-Market Fix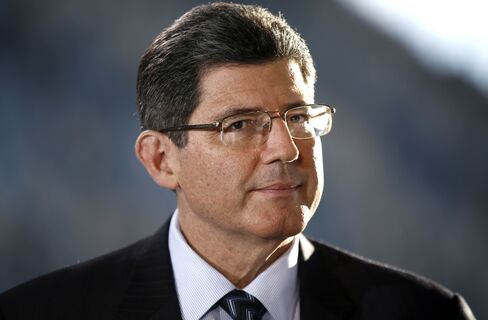 Brazil's seemingly boundless corruption scandal centered around Petroleo Brasileiro SA has dominated headlines and investor attention.
And yet the country faces perhaps a bigger and potentially harder-to-solve problem: how to wean the nation's companies off state-development bank BNDES.
Its 651.2 billion reais ($212.5 billion) of outstanding loans are swelling the government's debt and putting the country at risk of a downgrade to junk. Finance Minister Joaquim Levy, who's been leading the push to preserve Brazil's investment grade since taking office in January, is now seeking to curb the bank's largess by requiring companies to obtain part of their financing in the country's local bond market.
"We have seen a big expansion of public banks including BNDES in the past few years, but that cannot last forever," said Cristiano Oliveira, the chief economist at Banco Fibra SA.
While a stalling economy and the widening graft probe may limit the investor appetite that Levy needs to reduce BNDES's lending, Brazil may have few other choices after years of state support for its "national champions."
The surge in total lending at the Rio de Janeiro-based bank -- whose loans carry a subsidized interest rate that's about half the nation's benchmark -- has been staggering. It's almost quintupled over the past decade, eclipsing lending by the World Bank, data compiled from BNDES's website show.
The 187.8 billion reais it lent last year was more than twice the amount issued in Brazil's local corporate bond market.
Debt Surge
To pay for all this, the government transferred about 388 billion reais to the state-controlled bank from 2009 to 2014, according to Moody's Investors Service. That's helped push Brazil's gross debt to equal 65.1 percent of its economy, the highest since at least 2006.
"The expansion of BNDES with funding from the government is over," Levy, who was flanked by BNDES Chief Executive Officer Luciano Coutinho, said at a press conference announcing the plan on April 9. "We need to improve the appetite for fixed-income investments."
Coutinho said that companies will have to sell real-denominated bonds due in at least two years locally to qualify for the maximum possible amount of BNDES loans with the subsidized rate of 6 percent. The program is targeted at companies with local credit ratings of AA or higher.
Brazil's real advanced 0.7 percent to 3.0420 per dollar at 2:38 p.m. in New York.
Anbima Outlook
Brazil's capital markets association known as Anbima forecasts the measure will generate as much as 10 billion reais of new bond issues in the local market in the next three years, president Denise Pavarina said.
In an e-mailed statement, BNDES's press office said it doesn't have projections for how much its lending will fall as a result of the program. The Finance Ministry didn't respond to a telephone or e-mail messages on the potential impact on the country's fiscal accounts.
'Banks Retrenching'
"The fact that BNDES is scaling back per se is already positive" for the bond market, Paulo Bianchi, a money manager at the asset management division of JPMorgan Chase & Co.'s local unit in Sao Paulo, said in an e-mail. "With public banks retrenching, you can see more lending opportunities for private banks and capital markets."
Levy's plan faces plenty of headwinds.
With Latin America's biggest economy set for its worst contraction in a quarter-century and benchmark borrowing costs at a six-year high of 12.75 percent, local bond sales plunged 60 percent in the first quarter from the same period last year.
Levy has also faced opposition in Congress to his efforts to cut spending at a time when discontent with President Dilma Rousseff has sparked protests and calls for her impeachment.
Those challenges prompted Fitch Ratings on April 9 to cut the outlook on Brazil's BBB rating, already the second lowest investment grade, to negative. Standard & Poor's rates Brazil one step lower at BBB-, one level above junk.
Investors are also concerned BNDES will need to provide financing to Petrobras as the kickback investigation cuts off its sources of financing.
Still, more local issuance will help reduce the dependence on BNDES, said Mansueto Almeida Jr., an independent economic consultant and former member of government research institute IPEA.
"That should bring some relief," he said by telephone from Brasilia. "It is a step that might be timid at first, but that should create an important legal framework going forward."
Before it's here, it's on the Bloomberg Terminal.
LEARN MORE