ASML Stock Drops as Chip-Equipment Maker Sticks to Delivery Plan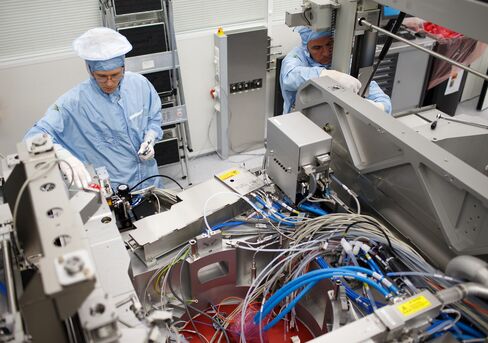 ASML Holding NV, Europe's largest chip-equipment maker, fell the most in three weeks in Amsterdam trading after reiterating a sales target for its newest product and one of its biggest customers scaled back investment plans.
ASML dropped as much as 3.4 percent, the steepest intraday decline since March 26, after saying it still plans to deliver six of the most recent versions of its extreme ultraviolet lithography systems. First-quarter revenue totaled 1.65 billion euros ($1.75 billion), and the Veldhoven, Netherlands-based company predicted Wednesday that sales in the current three-month period will amount to 1.6 billion euros.
The Dutch manufacturer has been trying to persuade chipmakers to upgrade their machinery to EUV technology, which enables the production of smaller chips while increasing the capacity and speed. Intel Corp., one of ASML's top three customers in terms of revenue, said Tuesday that it's reducing its 2015 budget for new plants and equipment by 13 percent.
"I would have liked to see Intel and Samsung place orders for the four next-generation EUV machines that are being shipped in the second half," Robin van den Broek, an analyst at ING Bank, said by phone. "That you're going to ship something in the second half, but haven't managed to sell it yet, is a sign that customers need to get fully confident."
ASML was trading down 0.3 percent at 93.78 euros at 9:34 a.m., paring the stock's gain this year to 5 percent to value the company at 41 billion euros.
Intel, the world's largest chipmaker, outlined plans Tuesday to spend about $8.7 billion this year on new production capacity, rather than the $10 billion expected earlier.
The U.S. manufacturer said that demand for machines that run data centers is helping keep second-quarter sales in line with analysts' estimates, while PC-chip sales are declining as more consumers rely on tablets and smartphones to get online.
Before it's here, it's on the Bloomberg Terminal.
LEARN MORE