Asiana Pilots Ordered More Training After 2nd Crash-Landing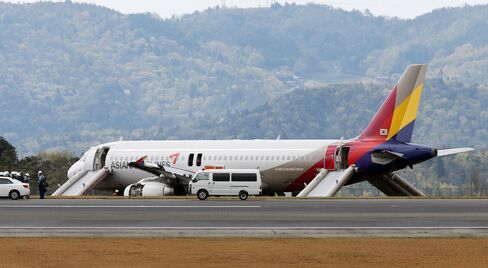 Asiana Airlines Inc. was ordered to give pilots more training after its second accident in two years raised concerns about the carrier's safety standards.
South Korea's government told the nation's second-largest carrier to augment simulator training for pilots who fly Airbus Group NV A320 planes, the Ministry of Land, Infrastructure and Transport said. The airline will need to make sure training programs are carried out properly, the ministry said.
The order comes after an Asiana flight carrying 81 passengers and crew crash-landed short of the runway Tuesday night in Hiroshima, Japan, injuring 27 people. The accident -- which echoes Asiana's July 2013 crash at San Francisco International Airport that killed three people while landing -- comes as a series of accidents in the region over the past 13 months has drawn attention to air safety in Asia.
"Asiana, at this stage, needs to focus on identifying gaps which are associated with the Hiroshima crash," said Mark D. Martin, chief executive officer of Martin Consulting, an aviation consulting firm. "Safety, training and procedure review is a continuous process."
South Korea will step up monitoring to ensure that safety standards are being improved, similar to steps Taiwan took when a TransAsia Airways Corp. flight crashed in February minutes after take off in Taipei. Taiwan temporarily grounded 10 TransAsia pilots after tests showed they needed more training in emergency procedures.
Asiana shares dropped as much as 3.4 percent to 8,210 won in Seoul trading today, their lowest intraday level in more than a month. The stock fell 4 percent yesterday.
Overusing Planes
After Tuesday's crash, the South Korean government is urging all Korean airlines to follow safety regulations and stop overusing planes to meet demand during peak periods, the transport ministry said.
The carrier has stepped up "management and monitoring of safety procedures" since the Hiroshima accident, Asiana said in text message sent to Bloomberg News.
"We apologize to the passengers for the accident," Asiana said in a statement Wednesday. "We will fully cooperate with the authorities to find the cause of the accident."
Two months after the San Francisco accident, in which a Boeing 777 hit a seawall short of the runway, Asiana said pilots would spend longer in flight simulators training for approaches to airports without landing guidance systems. The airline also said it would add safety specialists and boost maintenance, and would hire an outside company to evaluate its procedures.
Asiana hired Akiyoshi Yamamura, formerly a pilot and safety officer at Japan's ANA Holdings Inc., in December 2013 to improve safety standards.
Rain, Thunderstorm
The captain of the A320 plane involved in Tuesday's accident had 8,233 flying hours and last underwent simulator training in the fourth quarter of 2014, according to Asiana. The co-pilot, who had logged 1,583 flying hours, had his last training earlier this year. The airline didn't say which pilot was at the controls when the plane tried to land.
The cause of the Hiroshima accident, which occurred on a night of rain and thunderstorms, hasn't yet been determined. An Airbus spokesman in Toulouse, France, said the manufacturer is ready to offer assistance. Police in Hiroshima said they will investigate for possible negligence resulting in injuries.
"It becomes imperative that the government and the regulator aggressively audit all airlines in Korea" to address gaps and issues in their safety procedures, Martin said. "This can start from plain and simple cockpit observation on select flights to ensure flight-deck issues are managed and initiated in the right order."
Before it's here, it's on the Bloomberg Terminal.
LEARN MORE