ANZ CEO Douses Retirement Talk as Lender Extends Asian Push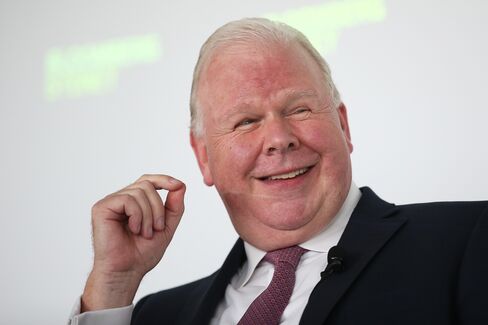 Australia & New Zealand Banking Group Ltd. Chief Executive Officer Mike Smith said reports of his imminent retirement are "greatly exaggerated."
The Melbourne-based lender's expansion into Asia is a "long-term transformation," Smith said Wednesday, adding that he had more work to do to complete a process that began when he took over as CEO in October 2007. He voiced a preference for "growing organically," adding the bank hasn't done any work on a possible acquisition of Standard Chartered Plc.
Smith, 58, is currently the longest-serving chief among the country's four largest banks. Speculation that he will depart surfaced after the Australian newspaper in February said the lender's board had begun the search for Smith's successor.
"I can assure you there are certainly no slippers in waiting in my office," Smith said in a speech Wednesday at Bloomberg's Sydney office. "There is still a lot for me to do, and for the next generation of ANZ leadership too. We need to complete what we started and create a truly regional bank."
The ANZ chief indicated in an interview with the Australian Financial Review in September he hoped to stay in the job for another two or three years. He had applied for Australian citizenship and hoped to settle permanently in Melbourne, the AFR said. Smith, who was born in the U.K., joined ANZ from HSBC Holdings Plc, where he had been head of Asia.
Regional Growth
"We've got a board that is totally committed to what we are doing," he said. "There's no panic and the bank has a very good succession-planning structure."
Progress on ANZ's Asia expansion has been "better than expected," Smith said. The lender is seeking to double the profit contribution from its businesses outside Australia and New Zealand to as much as 30 percent by 2017.
Smith moved to temper speculation of ANZ's interest in Standard Chartered that was fanned after he declined to rule out a bid in a March interview with the AFR. The CEO said in answer to questions after his speech that he preferred to expand the lender's own business.
"Any major banking deal which is cross-border now is fraught with regulatory risk," Smith said. "It's hard to see how that would work at the moment."
Commodity Prices
Andrew Geczy, ANZ's institutional and international banking head, said last year he's targeting a return on equity in Asia of at least 13 percent. The firm's ROE was 15.4 percent in the year ended Sept. 30 and lags competitors Commonwealth Bank of Australia and Westpac Banking Corp., filings show. ANZ wants the measure to increase to 16 percent by the end of 2016.
Asia will still be important for Australia and ANZ even as commodity prices slump amid lower Chinese demand, Smith said. Australia's relationship with the region is now being supported by the export of agricultural commodities, education and other services, he said.
Declining raw-material prices lower the value of the bank's trade-finance revenues. Lending margins, the spread between the cost of funding and interest charged on loans, in the quarter ended Dec. 31 dropped 6 basis points from the six months to September partly because of lower commodity prices, ANZ said in February.
Shares of the bank lost 1.1 percent to A$35.91 as of 3:20 p.m. in Sydney on Wednesday. The stock climbed 21 percent since Smith took over as CEO, compared with a 10 percent drop for the benchmark S&P/ASX 200 Index.
Before it's here, it's on the Bloomberg Terminal.
LEARN MORE