Yen Seen Dropping Versus Euro as BOJ Bazooka Beats ECB Stimulus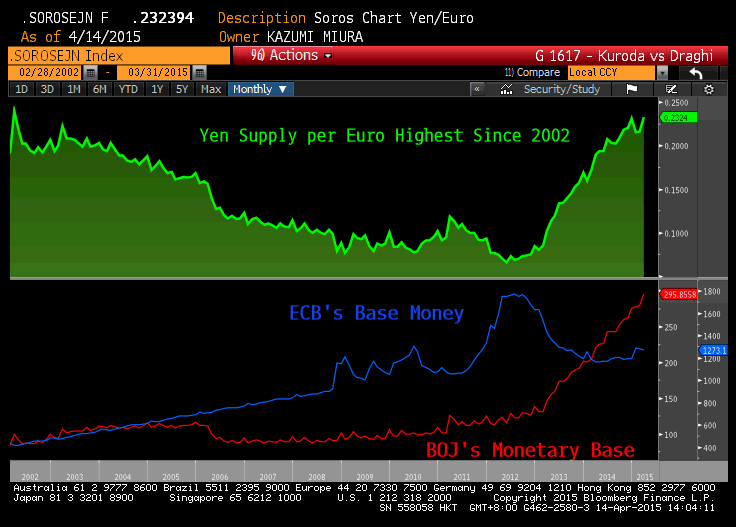 The Bank of Japan is outspending the European Central Bank in its monetary stimulus, putting pressure on the yen to drop against the euro.
The BOJ's unprecedented bond buying has resulted in the yen circulating in the market exceeding euros by the most in 13 years, even after the ECB began note purchases on March 9, according to data compiled by Bloomberg. The yen gained to 126.10 per euro on Tuesday, its strongest since June 2013, after reaching a six-year low of 149.78 in December.
While the BOJ last week kept its policy of buying as much as 12 trillion yen ($100 billion) of sovereign bonds a month, 22 of 34 economists in a Bloomberg survey forecast additional stimulus by Oct. 31 after inflation fell to zero in February. The ECB plans to buy 60 billion euros ($64 billion) of public debt per month through September 2016 to fend off deflation.
"The BOJ's monetary policy is far bolder," said Tetsuya Inoue, a former BOJ official and the chief researcher for financial technology and markets at Nomura Research Institute Ltd. in Tokyo. "The yen, which faces relatively larger easing, is more prone to face selling pressure than the euro."
While demand for bets against the euro in the options market surged at the start of the year, they have since faded. The premium for three-month contracts giving the right to sell the euro versus the yen, over those allowing for purchases, has narrowed to 2.28 percentage points from 2.75 on Feb. 23, data compiled by Bloomberg show.
The following four charts suggest the BOJ has out-muscled the ECB in its quantitative easing:
* CHART 1: The lower chart shows the BOJ's monetary base at the end of March at a record high 295.86 trillion yen and the ECB's base money of 1.27 trillion euros. The upper chart shows how much yen supply there is per euro, with the end-March level at highest since March 2002.
* CHART 2: The two lines show Europe faces positive surprises while Japan is vulnerable to negative ones. The Asian economy faces headwinds as plunging oil costs could drag consumer prices below zero, while core machinery orders fell in February from a month earlier. In the euro zone, the current account surplus is improving and German industrial production beat forecasts.
* CHART 3: This chart shows the pace of expansion in the BOJ balance sheet and its Japanese government bond holdings. Japan's benchmark 10-year JGB yield was 0.335 percent on Wednesday.
* CHART 4: This chart shows the proportion of BOJ's balance sheet against gross domestic product, which was about 61.5 percent at the end of 2014. The ECB's balance sheet against GDP was about 21 percent for the same period.
Before it's here, it's on the Bloomberg Terminal.
LEARN MORE