What Are the Odds? Labour to Win Power With Cameron PM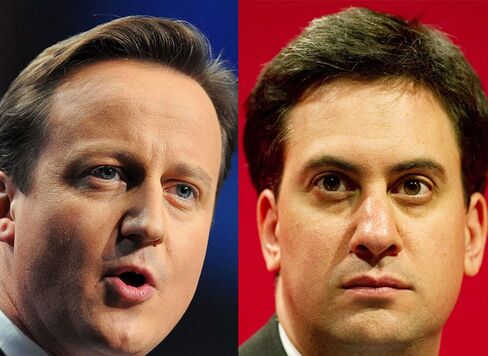 Who's going to win the U.K. election, according to bookmakers? The Labour Party, and David Cameron.
A Labour minority government is the most likely single outcome of the May 7 election with no party gaining a majority in the House of Commons, odds indicate. Yet, most betting websites also narrowly make Conservative incumbent Cameron favorite over Labour leader Ed Miliband to be prime minister.
The conundrum underlines how the vote is the hardest to predict for decades. On one hand, Cameron potentially has more routes to power compared with Miliband, who has ruled out a formal coalition with the Scottish nationalists. After a Labour minority government, the next three likely outcomes involve Conservative-led governments, according to bookmakers.
"Although a Labour minority is the favorite, it is still more likely that any other government will be formed," Leon Blanche, a spokesman for Irish bookmaker Boylesports, said this week. "Cameron would likely be the prime minister in a number of the scenarios that we have priced."
At Boylesports, a Labor minority administration is 7-4, meaning a 4 pound bet wins 7 pounds, while a Conservative minority government is 11-4.
Coin Toss
When it comes to the next premier, though, Boyle and other firms make Cameron favorite for a second term. At Paddy Power Plc, Cameron is 4-5, while Miliband is evens.
"In betting terms, it's basically a coin toss on the next PM, though Cameron is the marginal favorite with some betting firms," said Leighton Vaughan Williams, an economics professor and director of the Betting Research Unit at Nottingham Trent University. "It's a matter of probabilities. Given all the options, Cameron still has at least an evens chance to be PM."
While Ladbrokes Plc makes a Labour minority government favorite at 7-4, it's offering the same odds, 10-11, on Cameron and Miliband being prime minister by the time of the next Queen's speech, which marks the opening of parliament. William Hill Plc offers the same odds for who will be premier on Aug. 1.
"In my view, Miliband should be slight favorite, but that's not the way the betting market sees it," said Matthew Shaddick, head of political odds at Ladbrokes. "We've taken some decent bets on Cameron. Maybe Conservative gamblers just have more money."
Most polls published over the last week put the two biggest parties almost neck and neck. One on Monday by YouGov Plc found Labour in the lead with the support of 34 percent of voters and the Conservatives at 33 percent.
"My own best guess? A Labour minority government," said Vaughan Williams in Nottingham. "But I wouldn't bet on it."
Before it's here, it's on the Bloomberg Terminal.
LEARN MORE