Wal-Mart Defeats Investor Seeking Oversight of Gun Sales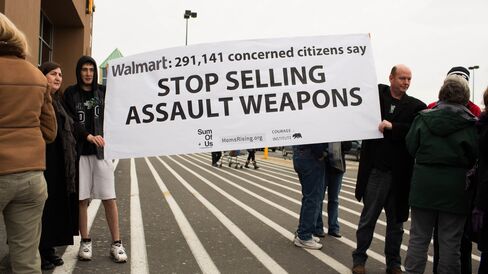 Wal-Mart Stores Inc. defeated investors seeking to force directors to oversee its sale of high-capacity weapons, winning reversal of a court ruling that the company had to allow a vote on a proposal by a Manhattan church.
Wal-Mart can exclude the initiative raised by Trinity Church Wall Street, an Episcopalian congregation that owns shares of the retailer, from its 2015 proxy materials, the U.S. Court of Appeals in Philadelphia said in an order Tuesday. The judges said they will issue an opinion explaining the ruling later.
The court "reached the right decision in reversing the district court's ruling," said Randy Hargrove, a spokesman for the Bentonville, Arkansas-based company.
Wal-Mart, the world's largest retailer, sells guns at as many as 1,900 of its 5,000 stores. Trinity's proposal would have required board oversight of its policies to determine whether to sell dangerous items such as ammunition magazines that enable the weapons to fire 10 or more rounds. High-capacity magazines "enabled" mass killings in Newtown, Connecticut, and Columbine, Colorado, the church said.
Lawyers for Wal-Mart told the appeals court during an April 8 hearing that a ruling for Trinity would require the retailer to scrutinize hundreds of thousands of potentially controversial products, from sugary sodas to organic vegetables. Business decisions like this are the "prerogative of management," the lawyer, Theodore Boutrous, said.
Trinity Church said it will consider its "options" when the court issues the opinion explaining its reasoning.
"We are disappointed with the ruling, but pleased that we have been able to draw attention to an important issue of corporate governance and social responsibility," Rev. Phillip Jackson, a spokesman for the church, said in an e-mailed statement.
"We will continue to challenge the management and boards of the companies in which we invest to make social responsibility and respect for the dignity of each individual a real and integral part of their corporate mission," Jackson said.
Wal-Mart doesn't sell handguns in its U.S. stores. The company said it bars online firearm sales and won't sell high-capacity ammunition magazines as an accessory.
The lower-court case is Trinity v. Wal-Mart, 14-cv-00405, U.S. District Court, District of Delaware (Wilmington). The appellate case is Trinity v. Wal-Mart, 14-4764, U.S. Court of Appeals for the Third Circuit (Philadelphia).
Before it's here, it's on the Bloomberg Terminal.
LEARN MORE