Venezuela Reins In Overseas Vacations to Delight of Bondholders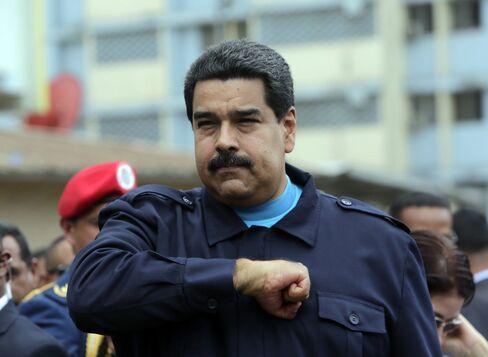 Venezuela President Nicolas Maduro is putting a damper on the vacation plans of his fellow citizens. Bondholders are welcoming the move.
The Finance Ministry said Friday that Venezuelans traveling to countries including the U.S. will now only get authorization to use their credit cards for up to $700 of purchases, down from $2,500. The move, aimed at easing a chronic shortage of U.S. currency in the cash-strapped country, will save the government about $2.8 billion this year, according to Barclays Plc.
With oil prices tumbling more than 50 percent since June and the economy mired in recession, Maduro is desperately seeking to bolster the nation's finances and stave off a default. The decision helped to push the nation's benchmark notes to a three-month high, part of an 18 percent rally in the nation's debt that's the biggest in emerging markets this month.
"What's most important is the signal," Francisco Ghersi, managing director of Knossos Asset Management, said in an e-mail. "They'll go with anything to meet payments."
Under the new guidelines, Venezuelan travelers can receive the maximum credit card authorization for trips to countries including the U.S., Aruba, Belize, Colombia and Mexico. Travelers will get an authorization of up to $1,500 for trips to countries including Argentina, Uruguay and Bolivia, and up to $2,000 for trips to Africa, Asia, Europe or Oceania.
'Needed Relief'
Travelers will also be limited to a maximum of $3,000 per year at the so-called Sicad exchange rate of 12 per dollar from the central bank.
The amount of dollars Venezuela will now allocate for non-domestic travel may decline to below $1 billion from $3.8 billion last year, Alejandro Arreaza and Alejandro Grisanti, analysts at Barclays, said in an April 10 report.
The savings are "a non-negligible amount that could provide needed relief for Venezuela's tight cash flows," they wrote.
Venezuela has $5.2 billion in principal and interest due in October and November, including payments on bonds issued by state-owned oil producer Petroleos de Venezuela SA. The nation, which has $20.2 billion in international reserves, has a total of $20.3 billion due in 2016 and 2017, according to data compiled by JPMorgan Chase & Co.
Default Risk
The declining risk of a default is also being reflected in the derivatives market, where swaps traders have cut the likelihood that Venezuela will halt bond payments in the next 12 months to 46 percent from as high as 82 percent in January.
Still, the risk Venezuela will run of out cash to pay bondholders persists at a time when soaring inflation and economic hardship are eroding support for Maduro, according to Risa Grais-Targow, an analyst at Eurasia Group Ltd.
"While these measures will help the government to avoid a credit event in 2015, it remains a significant risk for 2016" at over 60 percent, Grais-Targow wrote in an April 13 note to clients. "Worsening distortions will fuel social discontent, increasing the risk of a more acute political crisis this year and beyond."
Bond gains probably won't continue without a sustained rally in oil prices or a commitment to economic change, Siobhan Morden, the head of Latin America fixed-income strategy at Jefferies LLC, wrote in a report Tuesday.
BofA Outlook
Sovereign bonds due in 2027 fell for the first time in a week Tuesday, dropping 0.17 cent on the dollar to 46.97 cents as of 1:10 p.m. in New York.
To Bank of America Corp. strategist Jane Brauer, Venezuelan bonds may extend gains if the government reaches a deal with Jamaica over the repayment of oil shipments or is able to swap central bank gold reserves for cash -- measures that would bolster the country's ability to pay debt.
Venezuela's notes would also extend gains if the country pushes out maturities by exchanging shorter-term debt for longer-dated notes, said Knossos's Ghersi. Speculation the government is planning such an offer has helped fuel gains in the nation's short-dated debt, he said.
"The risk of default in the short run will fall significantly, which will benefit the entire curve," he said.
Before it's here, it's on the Bloomberg Terminal.
LEARN MORE