UN Security Council Bans Arms Sales to Yemen's Saleh, Houthi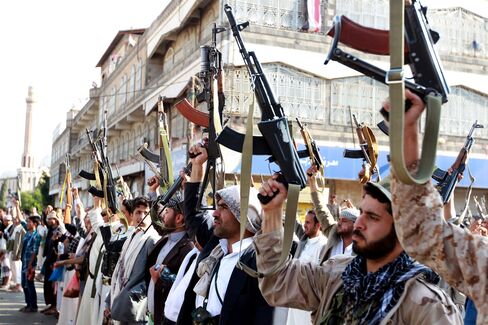 The United Nations Security Council voted to impose an arms embargo against Houthi leaders in Yemen and blacklist the son of former President Ali Abdullah Saleh, accepting a proposal by six Gulf Arab nations.
The 15-member council adopted the resolution written by the Gulf Cooperation Council with 14 votes in favor. Russia abstained. The resolution imposes a travel ban and asset freeze for Saleh's son Ahmed Ali Abdullah and Houthi leader Abdulmalik al-Houthi.
The vote on Tuesday caps weeks of negotiations in New York between Gulf Arab and Russian diplomats under mediation by Jordan, which holds the Arab proxy on the Security Council. Saudi Arabia is leading a campaign of air attacks by Sunni-led Muslim nations against the Houthis.
Russia opposed an arms embargo targeting solely the Houthi rebels backed by Iran, a Shiite Muslim nation, as an "unbalanced" move. Russia, which on Monday approved shipping air-defense missile systems to Iran, demanded that the Yemeni government led by President Abdurabuh Mansur Hadi also be included.
Russia's UN ambassador Vitaly Churkin said he abstained because the resolution's authors "refused to include the requirements insisted upon by Russia to address all sides to the conflict to swiftly halt fire and begin peace talks."
"We insisted that the arms embargo needs to be comprehensive as it's well-known that Yemen is awash in weapons," Churkin said after the vote.
Asset Freeze
The resolution adds al-Houthi and Saleh's son, a former head of Yemen's Republican Guard, to the list of individuals under UN sanctions. The Security Council in November sanctioned the elder Saleh and two Houthi military commanders for impeding Yemen's political transition.
The resolution also calls on UN Secretary-General Ban Ki-moon to use his authority to facilitate aid delivery and humanitarian pauses, as well to do his best to resume UN-mediated talks toward a political transition.
Russia fell into a dilemma at the UN when Saudi Arabia formed its coalition with nine other Sunni Muslim nations to launch airstrikes targeting the Houthis, who practice an offshoot of Shia Islam.
The Houthis say that they operate independently of Iran and are fighting against oppression by Sunni-dominated governments in Yemen. They follow the Zaidi branch of Shiite Islam, like about 40 percent of Yemen's population, and are concentrated in the northern half of a country that reunified in 1990 after decades of division into two states.
Russia-Iran Relations
Russia has been fighting against UN actions aimed specifically at the Houthis in an effort to protect its relationship with Iran, according to two Arab and one European UN diplomats, who have been involved in the negotiations for the resolution and asked not to be named citing the sensitivity of the matter.
The diplomats said the defense of the Houthis is an extension of the interests Russia shares with Iran, such as their joint support for Syrian President Bashar al-Assad.
Chris Swift, a national security lawyer at Foley & Lardner LLP in Washington who has researched terrorist networks in Yemen, says it's a calculated move in consideration of the six-nation talks on ending Iran's nuclear ambitions.
"Even if the Russians don't particularly care what happens in Yemen, there's still a value to them and value in terms of those nuclear talks, to have someone that's talking to Tehran and speaking to them in more sympathetic terms," Swift, who is also a national security professor at Georgetown University, said by phone.
Before it's here, it's on the Bloomberg Terminal.
LEARN MORE