Clegg Opens 2015 U.K. Election Pitch by Defending 2010 Coalition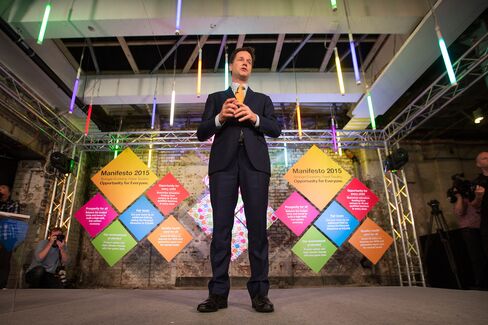 U.K. Deputy Prime Minister Nick Clegg opened his election pitch by defending the 2010 decision that outraged many of his Liberal Democrat supporters -- going into coalition with David Cameron's Conservatives.
Liberal Democrat poll ratings have never recovered from that deal, and they face losing half their 56 seats in Parliament on May 7. Launching his party's manifesto in London, Clegg insisted it had been the right choice.
"We could have taken the easy way out and said no thanks," Clegg told supporters Wednesday. "We could have stood by as the economy went under. We did the responsible thing, we did the gutsy thing. Every day has been worth it, because we made Britain better."
He said the Liberal Democrats would be able to moderate the instincts of either the Conservatives or Labour in another coalition -- "add a heart to a Conservative government and a brain to a Labour one."
And he warned Labour and the Conservatives against doing deals with the pro-independence Scottish National Party or the U.K. Independence Party, which wants Britain out of the European Union. "There is a very thin line between Britain being governed by a coalition with a conscience or a coalition with a grievance," he said.
The party's pitch to voters was a "world-class" education for every child. It promised spending on schools would track inflation until 2018, after which it would increase in line with economic growth. A Liberal Democrat administration would recruit more teachers, boost one-to-one tutoring and expand education for preschool children, the party said.
Bank Charge
Other measures included matching the Conservative pledge to increase National Health Service funding by 8 billion pounds ($12 billion) a year. The party also pledged to introduce a supplementary 8 percent corporation tax on banks to raise 1 billion pounds. The party, which is fighting for seats around London's Heathrow, opposes any airport expansion. It supports more onshore wind farms, unlike its Conservative coalition partners, who promised Tuesday to end subsidies to them.
The Liberal Democrats won 23 percent of the vote in the last election, and are currently polling around 8 percent. But with Prime Minister David Cameron's Conservatives and the opposition Labour Party neck-and-neck in opinion polls and each set to fall short of a parliamentary majority, Clegg's party may be in a position, as in 2010, to bargain for its policies to be implemented in return for joining a coalition government.
Third Way
A 2011 study by University College London's constitution unit found that 75 percent of the Liberal Democrat manifesto was included in the 2010 coalition agreement, compared with 60 percent of the Conservatives' manifesto.
Clegg has sought to position the Liberal Democrats as a brake on the other parties, saying they would cut spending less than the Conservatives and borrow less than Labour. The party has already committed to a levy on high-value homes, removing winter-fuel payments and free television licenses from rich retirees.
"This manifesto is a blueprint for a stronger economy and a fairer society. At its heart is one word that is absolutely central to what Liberal Democrats believe: opportunity," Clegg said. "We want to ensure that every child, no matter where they are born, the color of their skin, or how rich their parents are, has the same opportunity to reach their potential."
Clegg apologized in 2012 after his lawmakers voted to raise university tuition fees to 9,000 pounds a year, breaking a pledge before the 2010 election to oppose any increase. The move has been cited as a reason for the party losing support after entering government.
Before it's here, it's on the Bloomberg Terminal.
LEARN MORE