Taiwan Traders Cut Bond Yield Forecasts on Central Bank Outlook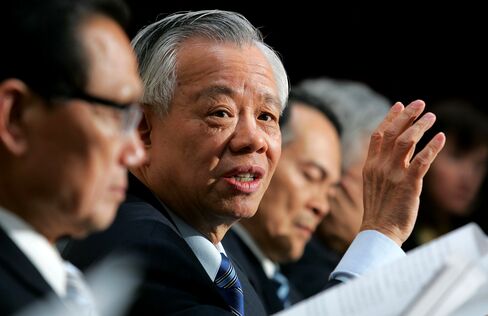 Taiwan's bond traders cut forecasts for local yields to reflect reduced prospects that the central bank will raise interest rates this year.
The 10-year yield will drop as low as 1.45 percent in 2015, according to the median estimate in a Bloomberg survey of 37 traders conducted March 27 to April 9. That compares with 1.6 percent projected in a December poll. The maximum rate seen fell to 1.75 percent from 1.8 percent and 70 percent of respondents said they expected no change in monetary policy this year, down from a quarter previously.
Central bank Governor Perng Fai-nan said on March 12 that Taiwan doesn't have to follow the Federal Reserve's plan to tighten policy this year. Raising interest rates and fostering currency appreciation when more than 20 central banks around the world have loosened, including South Korea, may hurt the island's exports.
"Perng's even milder than the Fed," said Tommy Gu, a bond trader at Capital Securities Corp. in Taipei. "Our neighboring countries are loosening. Taiwan likes to compare with South Korea because if we don't, we'll be less competitive."
Taiwan's benchmark bonds due March 2025 yielded 1.53 percent Monday, eight basis points less than when they started trading in February, Taipei Exchange prices show. The survey shows traders see the yield at 1.45 percent to 1.65 percent this quarter and 1.5 percent to 1.7 percent in the three months through September. For the final quarter, it's forecast at 1.55 percent to 1.75 percent.
Twenty-six respondents predict the central bank will keep the policy rate at 1.875 percent this year and 11 predict an increase to 2 percent. By the end of June 2016, 31 project at least one tightening move, while six still see the rate unchanged.
Taiwan's dollar has gained 1.2 percent against the greenback this year, the most in Asia. While the island held its benchmark interest rate for a 15th straight quarter last month, South Korea has cut by 75 basis points in the past year.
Before it's here, it's on the Bloomberg Terminal.
LEARN MORE