Swedish Opposition Mulls No-Confidence Vote Over Budget Switch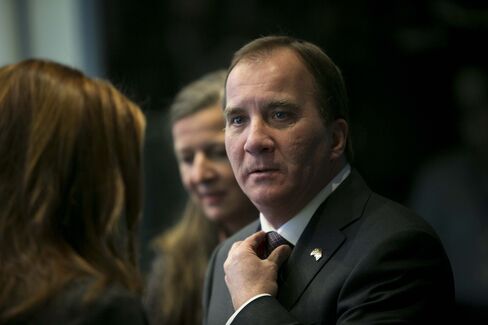 Sweden's opposition will consider lodging a no-confidence vote against the government should it go ahead and scrap the budget surplus target without its consent.
Parliament is set to vote on Thursday on whether to conduct a broader review of the minority Social Democratic-led government's plans to abandon the country's surplus regime.
If parliament backs that measure "there would be a clear expectation that the government won't change the target," said Ulf Kristersson, economic spokesman for the opposition Moderate Party.
The government has clashed with the opposition over its proposal to change the target, which calls for the government to have a surplus of 1 percent of gross domestic product over a business cycle. The government instead wants a balanced budget and has asked the National Institute of Economic Research to review the current goal.
Prime Minister Stefan Loefven has been under pressure to abandon the target from economists and unions who argue it puts an unnecessary straitjacket on investments amid high unemployment. The review of the goal is needed to meet the "reality we face here and now," according to the government.
If it changes the target, a no-confidence vote "is the ultimate constitutional consequence," Kristersson said. "It's a weapon the parliament has, but we aren't assuming that the government will end up in that situation."
No Breach
Finance Minister Magdalena Andersson, who needs to make sure she honors an agreement struck in December with the opposition to allow her budgets to pass, says the adjustments to the target weren't part of that accord.
"Changing the surplus target wouldn't be in breach of the December agreement -- that's crystal clear," Andersson said in an interview at parliament in Stockholm on April 14.
"It's not like the issue hasn't been discussed, it's not like everyone who signed the December agreement weren't well aware that that's how it is," she said. "At the same time, we've said we would like to see broad unity around this issue."
The parliament vote comes after the Finance Committee agreed that a committee should analyze the consequences of any changes to the target. That was voted through by the four former government parties and the Sweden Democrats, which have a majority. The government, which also includes the Green Party, and its allies the Left Party didn't back the proposal.
Kristersson said it would be very surprising if the government tried to circumvent the will of parliament.
"I don't have any reason to distrust the government -- I have been in government myself and I know there's reason to take parliamentary decisions seriously," he said. A no-confidence measure is "always there as a weapon, a last resort, and that, the government knows."
Before it's here, it's on the Bloomberg Terminal.
LEARN MORE