Shoreline CEO Says Buhari Must End Oil Theft to Boost Income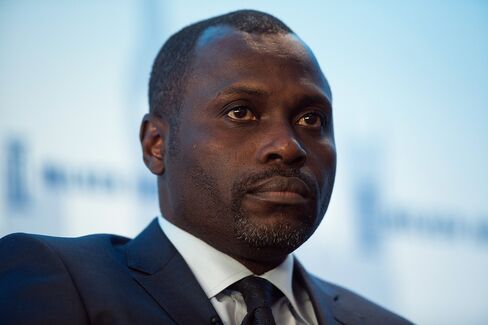 Nigerian President-elect Muhammadu Buhari, faced with low oil prices, will need to crack down on crude theft from pipelines to shore up government revenue and help producers, an industry executive said.
"The key for me in the first 30 days of government is to put a blitz around oil theft like they would on Boko Haram," Kola Karim, chief executive officer of Shoreline Natural Resources Ltd., said in an April 10 phone interview from London. "The government needs to stop the hemorrhage."
Nigeria, Africa's biggest oil producer, loses an estimated 300,000 barrels a day to criminal gangs that tap crude from pipelines that criss-cross the southern, oil-rich Niger River delta for local refining or sale to tankers waiting offshore, according to the state-owned Nigerian National Petroleum Corp.
Buhari will take office on May 29 after defeating incumbent President Goodluck Jonathan in a March 28-29 vote, with oil prices, the source of 70 percent of government revenue and 95 percent of export income, down 49 percent since June. Oil theft costs Nigeria about $6 billion a year, according to the central bank.
Brent crude, which compares with Nigerian oil grades, rose 1.5 percent to $59.20 a barrel as of 9 a.m. in London, according to data compiled by Bloomberg.
Calls to the mobile phones of APC spokesman Lai Mohammed and Buhari's spokesman Garba Shehu for comment weren't answered.
Support Funding
Most of the smaller companies obtained financing based on a price of $70 a barrel, compounding difficulties from the fall in the price of crude while they struggle to keep production steady in the face of pipeline attacks and oil theft, according to Karim.
Tax incentives to these companies and government-backed support funding would "energize" the oil industry, according to Karim. "If the government says here's $10 billion; we're going to lend to the oil and gas industry, to stimulate the industry in Nigeria, at 3 percent with a backstop guarantee, its a no-brainer," he said.
With support smaller Nigerian producers including Shoreline Natural Resources and Seplat Petroleum Development Co. would be able to double their share of the country's oil output to 30 percent in five years, getting the West African nation closer to its target of pumping 3 million barrels by 2020, according to Karim. Nigeria's production slipped 90,000 barrels a day to 1.9 million barrels in March, data compiled by Bloomberg shows.
Oil assets with an estimated value of $5.8 billion will go on sale in the coming months, and Nigeria's new government will have to "raise incentives" to enable small, local companies to acquire some of them, Philipp Chladek, an analyst for Bloomberg Intelligence, wrote in an April 13 note.
Restive Areas
Karim's Shoreline, with output of about 60,000 barrels a day, is one of more than five Nigerian producing companies that bought fields in restive areas of the Niger River delta as companies including Royal Dutch Shell Plc, Total SA and Eni SpA retreated.
While violence has eased since 2009 after thousands of fighters in the region disarmed under an amnesty, oil theft remains rife. The victory of Buhari, a Muslim northerner, against Jonathan, a Christian from the Niger delta, is unlikely to cause a worsening of attacks on oil installations beyond the current piracy and theft, Karim said.
Buhari will also inherit the six-year insurgency of the Boko Haram Islamist militant group in the north waged in its campaign to impose Shariah, or Islamic law, in the country of more than 170 million people. He has pledged to crush the group.
Once in office, Buhari's government should move to secure the pipelines while "sustaining dialogue and relationship with the communities in Niger delta," Karim said.
Before it's here, it's on the Bloomberg Terminal.
LEARN MORE