Ressler's Ares Said to Target $5.5 Billion for New Fund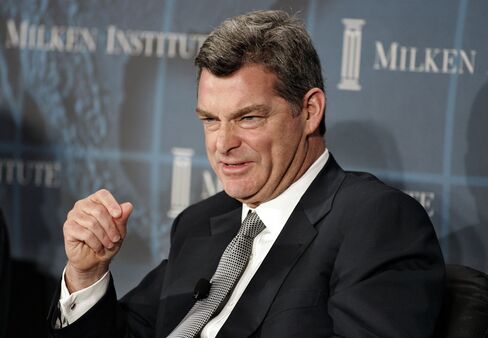 Ares Management LP, the buyout and credit firm run by billionaire Tony Ressler, is targeting about $5.5 billion for its next private equity fund, two people with knowledge of the plans said.
The Los Angeles-based firm has started discussions with clients and will begin formally marketing the fund later this year, said the people, who requested anonymity to discuss private plans. The pool would be the firm's largest in private equity and could reach $5.7 billion to $6 billion after employee commitments.
Bill Mendel, a spokesman for Ares at Mendel Communications, declined to comment on fundraising plans.
Ares joins Blackstone Group LP and TPG Capital in the fundraising market at a time when clients are flush with cash. Investors in private equity funds, known as limited partners, received distributions of more than $1 trillion during the 18 months ended June 2014, according to research firm Preqin. That helped private equity firms globally, in turn, collect commitments exceeding $1 trillion in the past two years.
"The low-interest-rate environment continues to make large global fixed-income investors very, very active in their search for additional yield," Mike Arougheti, Ares's president, said last month on a conference call with investors and analysts. "And what we're seeing is a meaningful increase in alternatives."
Ares, started by Ressler and John Kissick, has invested four private equity funds focused on North America and Europe and one focused on Asia since its 1997 founding. In January, the firm also assumed management of four energy and power vehicles with its acquisition of Energy Investors Funds.
Investment Gains
The new pool, Ares Corporate Opportunities Fund V, follows a $4.7 billion vehicle gathered in 2012 with a focus on buyouts, growth equity and distress-for-control in North America and Europe. That fund, which is about half invested, was producing a 7.8 percent annualized return after fees as of Dec. 31 and was valued at 1.1 times cost, according to an Ares regulatory filing.
The third fund, a $3.5 billion pool raised in 2008, was producing 23 percent annualized returns and valued at 1.7 times cost.
Private equity firms have struggled to find value as markets hover near record highs. Leveraged buyouts totaled $37.1 billion in the first three months of the year, a 3.4 percent decline from a year earlier and down 32 percent from the fourth quarter, according to data compiled by Bloomberg.
'Growth Opportunities'
"With current enterprise-value multiples on the high end, we seek to identify cash flow-enhancing and growth opportunities in businesses," Arougheti said on the March 5 call with analysts and investors.
Ares's private equity deals in the past two years include investments in American Tire Distributors, U.K. paint maker Farrow & Ball, energy producer BlackBrush Oil & Gas and retailer Neiman Marcus Group. The firm's $14 billion in private equity assets is overshadowed by $61 billion in traded and originated credit. Ares, which went public in May 2014, also manages $11 billion in real estate.
Before it's here, it's on the Bloomberg Terminal.
LEARN MORE